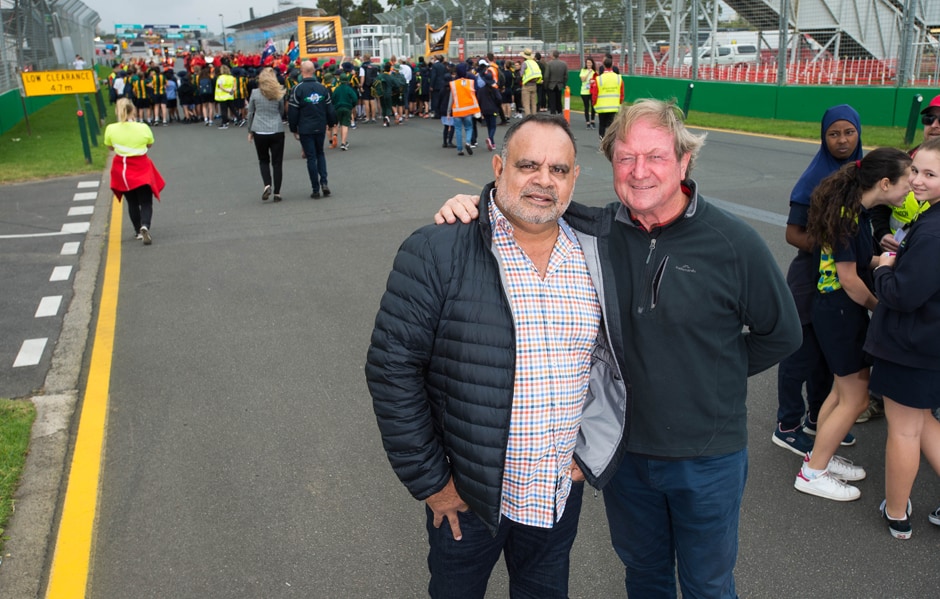 I love having the kids here and they inspire us to do more."
Michael Long
More than 100 primary school students have joined Michael Long and some special friends on the Formula 1 Rolex Australian Grand Prix circuit for The Little Long Walk on Tuesday.
Four-time premiership coach Kevin Sheedy, sporting legend Nova Peris and several representatives of the Australian Grand Prix Corporation (AGPC) also trekked down the famous Albert Park straight to kick off celebrations for The Long Walk's 15th anniversary.
Long expressed his pride at the growth of The Long Walk and its programs since his groundbreaking hike from Melbourne to Canberra in 2004.
"It's come leaps and bounds enormously with the support of the club and the beautiful staff that we have steering the ship," Long said on Tuesday.
"What a great way to start the 15th year."
The charity's Walk the Talk program, which educates school kids about Long's journey and Indigenous culture, is one of many important initiatives run by the charity and Long said it always makes him proud to see children embracing the programs and events.
"Our Walk the Talk program is instrumental, it was one of the most important areas of the walk when we first started – getting into the schools and talking to the kids about history and culture.
"They are the ones who are ultimately going to shape the way this country thinks and what it does with Indigenous issues. We thought that was an important space that The Long Walk should be in.
"I love having the kids here and they inspire us to do more."
Our @ausgrandprix Little Long Walk is about to start. Longy, Sheeds and Nova having a quick talk to the students. #wewalktogether #thelongwalk #thelittlelongwalk pic.twitter.com/RponOU1W85

— The Long Walk (@TheLongWalkOz) March 11, 2019
He said having the passionate support of people like Sheedy and Peris has been crucial for the success of The Long Walk and the greater understanding of Indigenous issues.
"Sheeds has been a part of this whole movement from the very start when I got to the club," Long said.
"Nova speaks for herself with what she's achieved and what she's doing on the board and carrying The Long Walk for us. I'm not here (in Melbourne) all of the time and Nova does a great job."
Essendon's partnership with the AGPC has opened new doors for the charity and Long said he looks forward to further opportunities as the relationship between the organisations continues to grow.
"We're really glad that we could work with the Grand Prix this year, this might be a start of what's to come, we'd like to expand it."
The Long Walk's celebrations will continue throughout the year, highlighted by The Long Lunch and the official walk to the Bombers' Dreamtime at the 'G clash with Richmond on May 25.
CLICK HERE TO RECEIVE THE WEEKLY BOMBER BULLETIN