Essendon VFLW vice-captain and inaugural best and fairest Hayley Bullas has established herself as one of the competition's most relentless midfielders.
And at just 22 years of age, Bullas has shown promising signs of being able to take the next step to compete at the highest level.
The midfielder was deservedly named in the forward pocket of last year's VFL Women's Team of the Year after a sensational season, but was soon overlooked by AFLW clubs in the draft.
But Bullas was never going to take it to heart and she is thriving as she looks to once again take the eye of senior recruiters.
"I guess I wasn't too disappointed, I thought that I might get picked up and I would have been absolutely stoked if I did, but I just trusted that it just wasn't my time," Bullas said on Women's Australian Rules Football Radio on Wednesday.
"I wasn't ready yet and looking back on it, if I had have been picked up, I don't think I would have been ready. Whereas now, I'm ready for it.
"I've developed my skills, I've worked on everything that I've needed to work on that AFLW clubs coming in have spoken to me about and I just need to keep honing in on that."
Bullas was prolific in last year's inaugural season, averaging a competition-high 10.5 tackles per game and racking up huge game totals including 19, 18 (twice) and 17 tackles.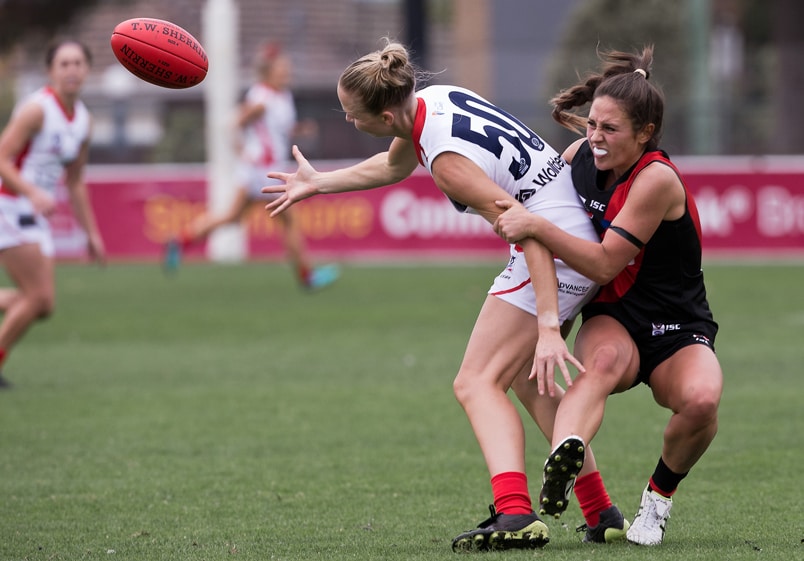 Hayley Bullas has been a tackling machine for the Bombers. (Image: Ben Johnstone)
Bullas has continued her strong form this year, averaging 18.5 disposals and eight tackles from four games, and said she is hopeful her efforts will lead to draft pick contention.
"I think I'm showing a lot of good signs this coming draft and this coming season," she said.
"I'm just focusing on Essendon now and having a good season there and putting my practice into play and just trying to develop myself personally.
"If I know that I've done that, then I've done all I can do and hopefully I get picked up.
"If I don't (get drafted) it's just not the right time for me and that's okay as well, I'll just have to re-focus on 2021."
Bullas said she would be proud of herself if she was drafted by an AFLW side.
"It's been a goal that I have been wanting ever since I was at Chernside Park (in Youth Girls), so it's been over five years that I know that I can make it and that I'll get there," she said.
"I'd feel proud of myself knowing all the hard work, time and effort that I've put in, has all been worth it, to get to where I want to be."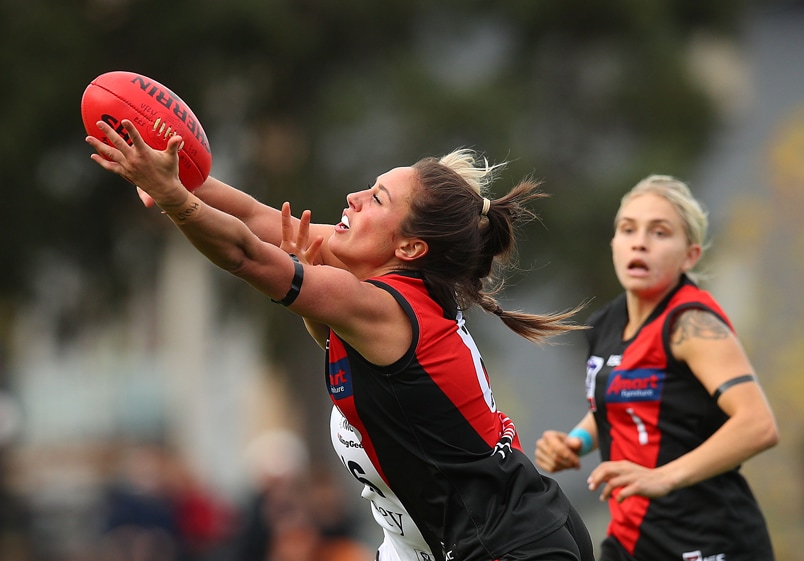 Bullas still has her eyes set on an AFLW opportunity. (Image: AFL Photos)
Essendon's next assignment is a huge clash with Hawthorn when it returns from a bye at Windy Hill on Saturday.
Looking ahead, Bullas said the team has what it takes to win after showing great improvement this year and knocking off Carlton for the side's first success of the year before the bye.
"We are really excited to have this opportunity. Coming off a win, we've just got to keep the ball rolling and keep our heads held high," she said.
"I know Hawthorn have had a bye week as well, so everybody is going to be feeling refreshed.
"We're ready to hit hard, we're ready to contest and win this game."
The game is set to begin at 11:30am.
Victoria Raptis is in the final year of her Bachelor of Communications (Journalism) degree at RMIT University. As part of their strategic partnership, Essendon Football Club and RMIT University are committed to providing opportunities for students, staff, players and the wider community.