Jubilant Essendon coach John Worsfold says his side's confidence is building after claiming its fourth successive victory with a come-from-behind win over Adelaide at Adelaide Oval on Friday night.
The undermanned Bombers trailed by as much as 30 points in the second term, but produced a stunning turnaround to claim a 21-point victory on the road - its seventh in nine weeks.
"We were playing scratchy footy early, and at half-time our boys felt we had better footy in us, and that was our focus – go out and play the style we know we can. Pleased we stuck to that," Worsfold said.
"To not worry about the challenges we were faced, and the depth we have with players coming in, we're getting belief through that. We've been able to grind out the games in the last month.
"The way we've been playing over the last six or seven weeks, we're seeing better consistency. We need to keep building that, (and) we still have a lot of hard work to do.
Worsfold refused to take credit for swinging his side around when in trouble during the opening half.
The Bombers looked to be headed to another interstate loss when they trailed the Crows by five goals late in the second quarter, but a pair of telling moves from the coaches' box allowed Worsfold's charges to work their way slowly back into the game.
Versatile big man Cale Hooker - who was badly beaten by Crows veteran Josh Jenkins early on - was swung into attack and Michael Hartley was moved into defence just prior to the half-time break, with the switch helping spark Essendon into action.
But Worsfold said the decision to move his players around was pre-planned and only needed to be implemented due to the fact his side was being so badly beaten.
"We had pre-planned that if it's not the way we wanted it to look, we know Hartley would go straight back and potentially Hooker (would go) forward," Worsfold said following the 21-point triumph.
"Those were things we had discussed pre-game and it was just a matter of when we felt the time was right or when it was needed to change that."
WATCH: HARTLEY SPEAKS POST-GAME
Worsfold said there was potential for him to use Hooker in attack on a weekly basis, but any decision to do so would be dependent on injuries and team balance.
"It could easily be a permanent thing if we wanted it to," Worsfold said.
"He played as a key forward a couple of years ago and kicked 40-odd goals.
"The challenge is if we take him out of the backline it potentially leaves a bit of a hole there...so we have got some options to consider as we keep going forward."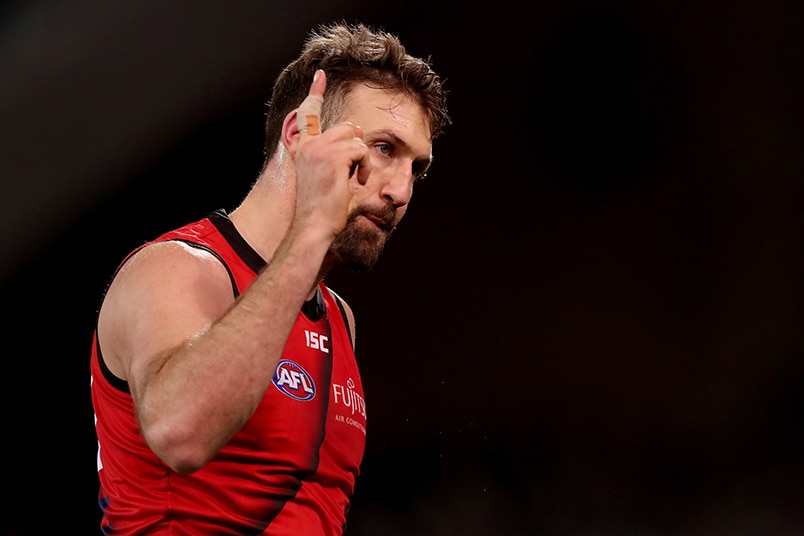 Hooker was swung forward to great effect against the Crows. (Photo: AFL Photos)
The Bombers appear likely to regain a trio of key players for next week's clash against the Suns on the Gold Coast, with Worsfold revealing dynamic goalkicker Orazio Fantasia, experienced ruckman Zac Clarke and emerging forward Jayden Laverde are all in line to return from injury.
Whether key midfielder Dyson Heppell makes the trip remains to be seen, with the inspirational skipper to have his ongoing foot complaint closely monitored for the remainder of the season.
"We don't know how he will pull up until probably Monday," Worsfold said of Heppell.
"I have got no doubt his foot will be sore tonight. He might be feeling pretty good by Monday, or he might not be.
"We will use the measures that we can to assess him day to day and week to week.
"He may be right for the rest of the year, he might need a spell somewhere. It is not one you can predict."