In 2019 we will be looking back on five key lessons to take away from every Bombers match, thanks to RMIT.
This time we look at Essendon's 32-point victory over Fremantle at Optus Stadium on Saturday.
1. A week is a long time in football
On Saturday evening, August 10, the Bombers were recovering from a huge thumping at the hands of the Western Bulldogs. They had conceded 21 goals on the trot in a nearly two-hour long period of disappointing football.
But just seven days later, the real Dons were back. Fast, tough and full of energy in front of a hostile crowd nearly 3000km from home, they bounced back.
Yes, there were personnel changes with some important players rejoining the side, but that can only get you so far. It was a focused, dedicated and selfless team performance where every single player did their job for the good of the club.
The week showed how important it is to keep individual games in perspective and the game against the Dockers showed Essendon is still a force to be reckoned with.
Happy Sunday, Bombers fans! #MightyBombers pic.twitter.com/76xOPW5pZG

— Essendon FC (@essendonfc) August 17, 2019
2. The Bombers will play finals footy this year
While football is full of uncertainty, one thing we can now guarantee is the Bombers' return to finals football.
With other results across the league falling Essendon's way, the team's impressive victory secured a spot in the top eight with another round to play, easing the nerves to some extent after what has been a tense finish to the year.
It is a great achievement for the side in what has been a rollercoaster of a season so far, but Dylan Shiel said it best post-game when sending the message that the job is not yet done.
This week's massive clash with Collingwood on Friday will shape the finals schedule and cannot be taken lightly. It will also give the Dons a good indication of where they truly stand heading into their deserved September campaign.
There is a serious possibility, in fact, that the two sides could end up taking each other on in their very next game, making team and selection tactics particularly fascinating this week.
3. You can lose the little battles and still win the war
You clearly don't want to be finishing every game behind in several key team statistics including disposals, clearances, inside 50s, contested possessions and hitouts. But Saturday's match proved you can still be the better team and claim a significant win despite those minor losses.
Efficiency was the key for Essendon on the weekend as the team made the most of its opportunities going forward, booting six more goals than Fremantle despite claiming 11 fewer inside 50s.
Serious intent and brave ball movement were also key factors behind the success, with the Bombers pouncing on every mistake from the home side and cutting through the field with speed, aggression and precision.
Blondes do it best ‍♂️#AFLFreoDons pic.twitter.com/AGtu7naOSr

— Essendon FC (@essendonfc) August 17, 2019
The Dockers won the contested possession count by 54 and had 71 more disposals than Essendon, but it didn't faze the Dons as they set up the ground beautifully and forced Fremantle to play slow, static football.
One key area the Bombers did win was in tackles, laying 71 to Freo's 55 in an impressive display of grit and determination. Star midfielder Zach Merrett laid 10 of his own in another sensational performance, while six Dockers failed to lay a single tackle.
4. Ambrose has another string to his bow
Patrick Ambrose just continues to impress. I keep writing about the versatile Bomber in this column and I doubt that will stop, but I'm not too sure that I can call him underrated for much longer as more and more fans stop to admire his efforts.
Athletic, aggressive and mightily tough, Ambrose has been one of the leading key defenders in the league this year. We know he is a brilliant beckman and he has dabbled as a forward in the past, including kicking 13 goals from 16 games in his first season, but he added a new working part to his game on Saturday.
While still playing his role in defence at stages throughout the game, Ambrose was given the tough task of quashing the influence of in-form Dockers star Nat Fyfe at Optus Stadium and he did just that. Few people can keep Fyfe down, but Ambrose and Essendon's coaching staff clearly had a plan. It worked.
He didn't hang off Fyfe or play a traditional tagging role as he let the Brownlow Medalist play his natural game at the centre bounces, but he did enough to keep Fyfe accountable across the ground and make him earn each of his possessions.
The Docker finished the game with 26 disposals, his lowest tally for the month, and Ambrose left the field with another feather in his cap.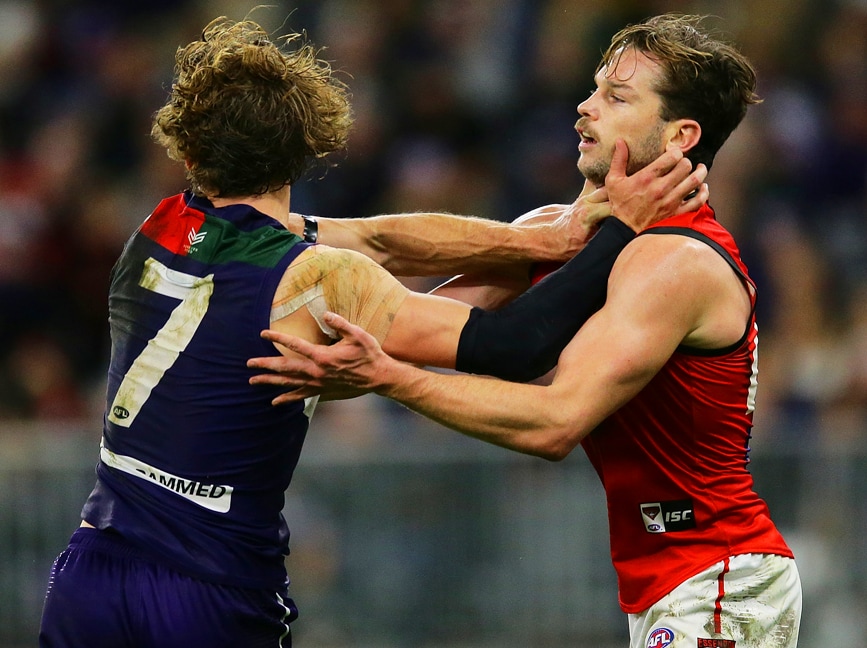 Ambrose battles Fyfe at Optus Stadium on Saturday. (Image: AFL Photos)
5. Brandon Zerk-Thatcher has a bright future
Well, I guess we already knew this, but it was great to see promising debutant Brandon Zerk-Thatcher perform so well on the big stage for the first time.
As a late inclusion for experienced Bomber Cale Hooker, Zerk-Thatcher's job was to play his role for the team and give it a red-hot crack in what was an undoubtedly important game in the context of the season in front of a fiery Fremantle crowd.
He had been terrific throughout the season in the VFL, showing outstanding confidence and proficiency in the air, and impressive with his courage and athleticism – he translated that into the big league on Saturday.
Cool and composed, the 20-year-old settled into the game sweetly and looked right at home despite being forced into a number of challenging match-ups including outgoing 211cm, 122kg ruckman Aaron Sandilands.
Time will tell whether the exciting youngster will keep his spot this week as the side heads into the finals series, but there is no doubt that the future looks bright for Zerk-Thatcher in the red and black.
View this post on Instagram