Essendon VFL senior coach Dan Jordan reviews the performances of the 10 AFL-listed Dons who featured in Saturday's heavy loss to Footscray.
Jordan Ridley

Stats: 10 disposals, four marks, two clearances, three inside 50s
From the coach: 'Rids' played mainly wing with a bit of time forward and half-back late. He's working on a new role and trying to find out the patterns associated with it, but it was a difficult game for him to do that considering the structure Footscray played. He just needs to keep persevering. By his own admission he's probably not in his best form at the moment, but he's just got to roll his sleeves up and keep working at it because then things will turn pretty quickly for him.
Irving Mosquito
Stats: Four disposals, five tackles
From the coach: First game back off a lengthy spell for 'Mozzie', who was on some limited time obviously coming back from injury. We just asked him to bring some pressure and some run and carry. He didn't find that many opportunities to do so, but there were definitely some moments where he put some great pressure on. Five tackles is a good return. Clearly, we would like the four possessions to be higher, and being dangerous around goal we like to have the ball in his hands.
Jordan Houlahan
Stats: Seven disposals, two marks, four tackles
From the coach: 'Houlas' didn't have the impact he would have liked. He played a mixture of forward and wing, but struggled a bit to get into the game. On the wing, we got outworked and outrun by Footscray, and then when he was up forward he struggled to get those opportunities because Footscray's backs were mopping up in the air. We were probably undermanned a bit for size, and probably didn't get the ground ball opportunities that Houlas would like because of that. He just needs to keep working on his game, and be able to find ways to impact when it's harder to be taking big marks or get his hands on the ball.
Brandon Zerk-Thatcher
Stats: Eight disposals, two marks, six spoils, three rebound 50s
From the coach: Brandon's effort is often where it needs to be, and is the type of player that when there's a bit of pressure on the ball he looks really good because he's assertive and able to contest in the air. When the ball is coming through with the ease that it did on the weekend though, he sometimes gets caught out of position. It was a really good learning game for him, in terms of his endeavour to play some AFL football.
Brayden Ham
Stats: 22 disposals, five marks, three tackles, two inside 50s, one goal
From the coach: Brayden persevered pretty well in terms of being on that fat side and being able to get up and down the ground. He also played some minutes forward and had a couple of opportunities to score. He found a bit of the ball on the outside, where the ball primarily was, and I thought his game was serviceable. He's in some reasonable form at the moment and can hopefully continue that.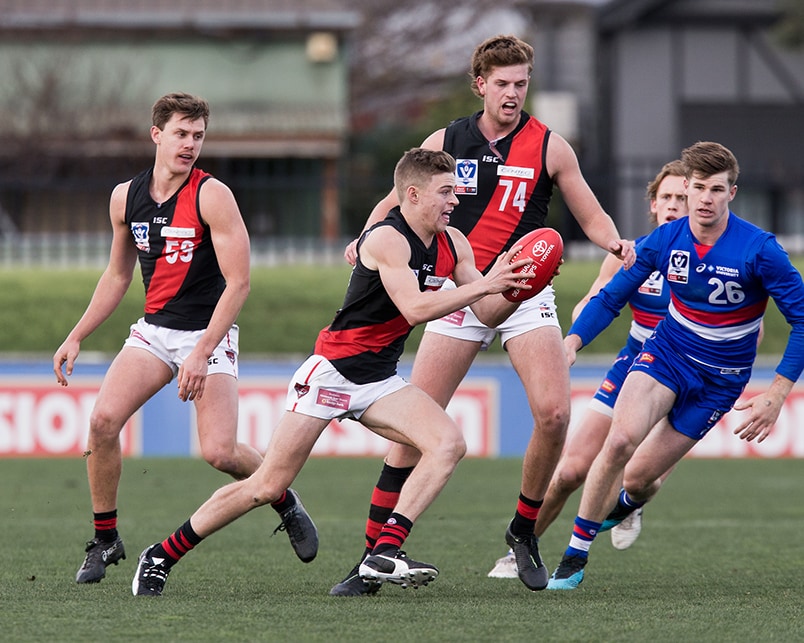 Brayden Ham is in strong VFL form. (Photo: Ben Johnstone)
Jake Long
Stats: Nine disposals, four tackles, two spoils
From the coach: 'Longy' found himself in that half-back position. We'd like to get some run and carry from him, but he probably wasn't allowed to do so with the structure Footscray played. I thought his effort was good. Defensively he looked to cover off, but the lack of pressure around the ball made it really difficult for our backs. He'll keep working at it. He's a really important player for us.
Michael Hartley
Stats: 20 disposals, five marks, four spoils, three rebound 50s
From the coach: 'Harts' played as our key back and also spent some minutes in the ruck. He competed pretty well, but probably got lost a little bit in his positioning with Footscray's ball movement. He'll keep working on that and transitioning but he got enough of the ball.
Trent Mynott
Stats: 18 disposals, four marks, six tackles, three clearances, six inside 50s
From the coach: Trent played inside, and I thought he battled admirably. Footscray completely beat us in the contest, but some of his inside grunt work was great. He had six tackles and 18 possessions, a lot of which would have come under a bit of heat, but we'd like him to try and get out a bit more and be more effective. As the game progressed his work rate remained.
Tom Jok
Stats: 11 disposals, three marks, two spoils, three inside 50s
From the coach: 'Jokky' played mainly outside with a little bit of ruck time. When he did work and covered off, he got some ball and gave us a few looks inside 50. His ball use probably wasn't where he'd like it though, so he'll continue to work on that and building up a few more possessions especially with his running ability. There were some good learnings for him moving forward.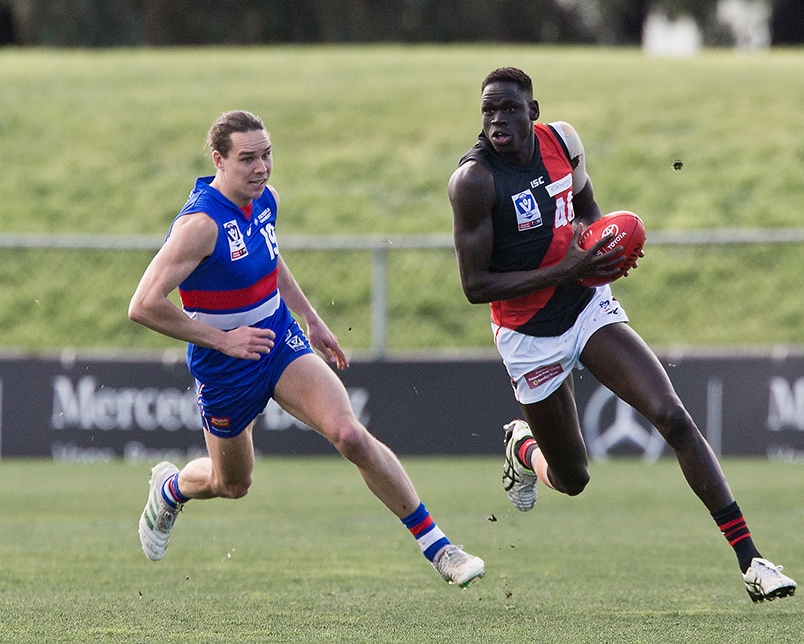 Tom Jok played a combination of midfield and ruck against Footscray. (Photo: Ben Johnstone)
Matt Dea
Stats: 15 disposals, five marks, three spoils, four rebound 50s
From the coach: 'Matty' was one of those guys that just tried all day. Our back six were under siege a bit and often found themselves one short due to lack of connection, but he tried to set the tone for us. It was probably a frustrating day for him, but his effort never waivered.