Isabel Currenti thought she might never play football again.
When injury struck in round nine, a stint on the sidelines threatened to end her hopes of playing in the VFLW.       
Currenti was chasing a loose ball late in the final term of Essendon's 20-point loss to Collingwood on July 6 when her knee was caught in a tackle.  
"I just fell to the ground. I remember sitting there for what felt like a really long time," Currenti said.     
"The physio came straight over. I wasn't quite sure what had happened, but I wasn't in any pain. They carried me off and I went through the tests with the doctor."    
Currenti's fears were realised when scans confirmed the worst.
The 27-year-old received the devastating news that she had torn the anterior cruciate ligament in her knee.
Dismayed by the results, she was told the injury would rule her out for the entire 2019 campaign.                    
"I was pretty shattered when I first found out," she said.      
"I had no idea that it was an ACL injury. I expected to be in a lot of pain, and it wasn't like that at all.
"The doctor called me that night and told me it wasn't a regular case and that the injury may have occurred previously, so I might have been playing without a full ACL for a while now."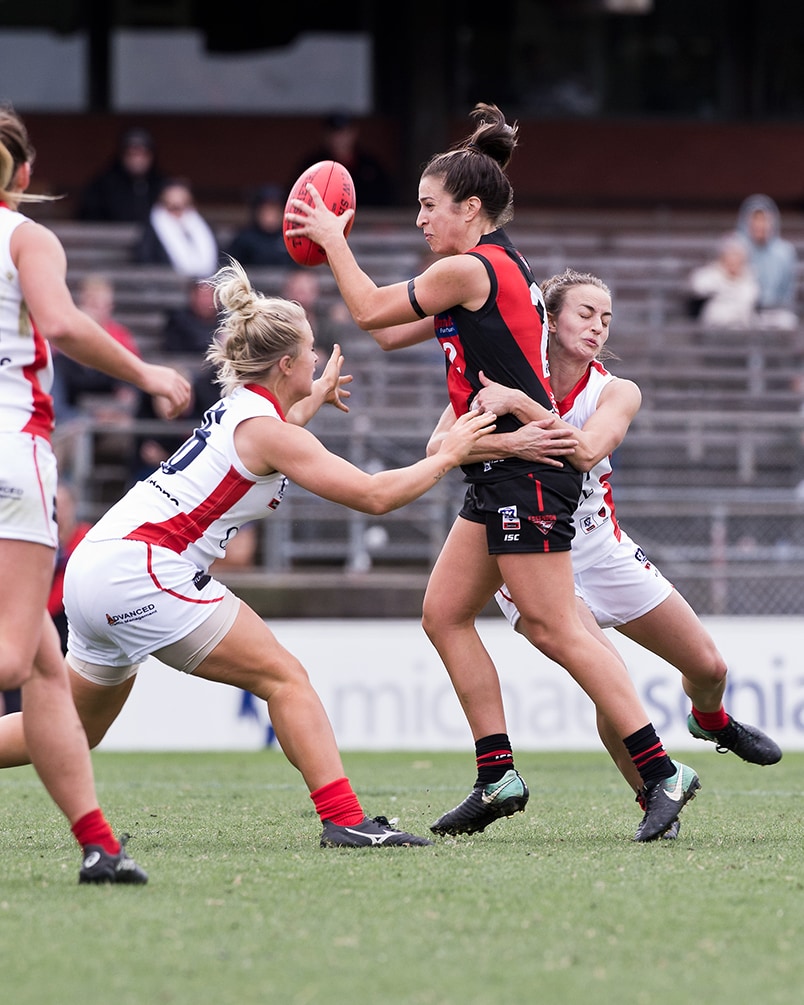 Currenti in action in the early stages of the season before injury struck. (Photo: Ben Johnstone)
Rather than undergoing a traditional knee reconstruction, Currenti opted to go down a physiotherapy route.          
She kept the injured knee in a brace and relied on an extensive rehab process to heal the injury naturally.               
"I'm obviously older than some of the other girls, but I'm only a couple of years into my footy career," she said.   
"If I was to get surgery now, I'd be out for at least 18 months because I'd miss all of next year as well.  
"We did heaps of testing and I was coping well, so I had to give it a shot."   
Currenti refused to give up hope of returning to footy.     
Fiercely determined to make a comeback, she began a rigorous rehab journey that pushed all the boundaries.
There were times where her goal looked unattainable, but she persevered, looking up to players like Sydney's Daniel Menzel, who has bounced back from four ruptured ACLs. 
"It was pretty full-on," she said.   
"I'd work with (head physio) David Spithill three days a week. We'd be at the club until 10pm on some nights.      
"I was so determined to do what I could to get back, I just wanted to make sure it was all worth it in the end."              
Playing again this season had always been a priority for Currenti.
She made incredible progress in the seven weeks since her injury.              
There were milestone moments - first came walking freely again, followed by the anti-gravity machine.
Suddenly, she was jogging laps at The Hangar before re-joining training with her teammates.        
"I was just so excited, it felt like I had been let off a leash," she said.   
"I wasn't even thinking about my knee. I just wanted to be involved where I could."  
Currenti made her fairytale return in the season-ending win over Williamstown, just 48 days after going down.         
Having dominated through prolific ball-winning abilities throughout the season, the midfielder could hardly have done more to earn her chance.                 
"It was a bit of a whirlwind because the team was sort of solid at the time and it was pretty hard to get back into a strong side," she said.     
"But when I did find out I was playing, I was pretty emotional. I couldn't believe it was true.
"All that hard work had paid off and I was getting an opportunity to get back. It felt pretty special."      
Skipper Courtney Ugle, who was alongside Currenti for almost all of her recovery, was full of praise.              
"She's been one of my biggest supporters. Even when she was going through a hard time, she was there when I needed a shoulder to cry on," Ugle said.
"We spent a lot of time together outside footy, so I knew a lot more than other people did, in terms of all the highs and especially the lows.   
"It gave me a great sense of pride to know that my friend was able to achieve her goal."
She said Currenti's "resilience and determination" had played a major role in her making it back as quickly as she did.       
"Isy was always the first one at The Hangar and the last one to leave.
"She never made any excuses. She had one clear goal and she did whatever she needed to do to achieve that.
"She's a really good friend and someone that I hold in high regard, so it made me incredibly proud to see her play that last game."
Victoria Raptis is in the final year of her Bachelor of Communications (Journalism) degree at RMIT University. As part of their strategic partnership, Essendon Football Club and RMIT University are committed to providing opportunities for students, staff, players and the wider community.