PROFILE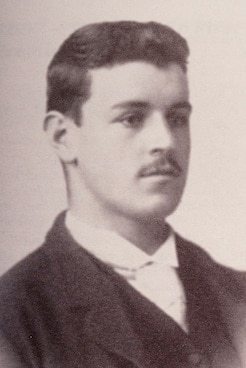 Many believed Albert Thurgood was the greatest footballer of all time. In 1958, football historian Cec Mullen wrote that the 6 feet and 12 stone champion was just that. He was the most spectacular high mark of his time and was an artist in ball control and balance. A brilliant runner, he was extremely fast around the ground and he could get rid of the ball with either foot. He was a magnificent kick - either drop, place or punt.
He came to Essendon in 1892 and quickly established his class and his all round play was undoubtedly the most prominent factor in Essendon's Association premiership successes from 1892 to 1894. He headed the Association goalkickers in 1892 with 56 goals, in 1893 with 63 goals and in 1894 with 62 goals. He was the first player to ever kick over 50 goals. In one game in 1893 he kicked 12 out of the sides 14 goals--a record, and then the next week nine out of 10.
Although he returned in 1898, residential rules stopped him re-joining the Dons until 1899 so he stood out for a year. And then it took him a while to regain his former greatness. He headed the League goalkicking list in 1900 with 25 goals, even though he only played irregularly, and again in 1902 with 33 goals. He was runner up in 1901. He kicked six goals in one game in 1900 and five three times in 1901.
He was an incredibly long kick and one place kick was measured in 1899 to be 107 yards two feet and one inch. He is also reported to have drop kicked 90 yards at practice.
In 1901, he is credited with bringing the premiership to Essendon. In the semi final he kicked five of the sides six goals from centre half forward to win the game. His game was described as one of the finest ever in a League final. Then, in the grand final he kicked half of his team's six goals to be one of the stars of the game.
He only played eight seasons with Essendon and in that time he headed the goalkicking list in every full season he played.
CAREER STATISTICS
Played 1892-94,1899-1902,1906
Games Total 103 (57 VFA, 46 VFL)
Goals 89 (1897-1906)
Premiership player 1901
EFC Best & Fairest 1901
VFL Leading goalkicker 1900
EFC Leading goalkicker 1900,1902
Champion of the Colony 1901