A superb half back flanker and then ruck rover, he came to the Bombers from Essendon High School and started as a half forward. He captained Essendon in 1970 and 1971 before becoming vice captain to Des Tuddenham in 1972. He had also been vice captain in 1969.
Davis was a dasher, always ready to charge down-field to place the ball right into attack. He was cool under pressure and had a good combination of pace and strength with outstanding natural talent. He was a brilliant mark and one of the best kicks in the game.
Davis was part of one of Essendon's greatest ever half back lines with Alex Epis and Ian Shelton, and ultimately became a top ruck-rover where he could display his talents all over the field. He won the best and fairest award in 1968, 1969 and 1971 and was runner-up in 1972. He starred on the half back flank in the 1962 premiership win and again in the 1965 premiership victory.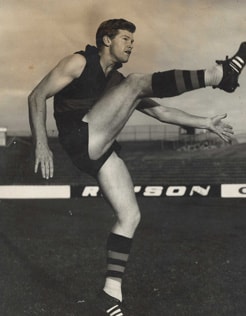 CAREER STATISTICS
Played 1961-72
Games 218
Goals 63
Premiership player 1962 ,1965
Grand Final appearances 1962,1965,1968
Finals appearances -12
EFC Captain 1970-71 (40 games)
EFC Vice Captain 1969,1972
EFC Coach 1978-80
EFC Best & Fairest 1968, 1969, 1971
Top 5 EFC best & fairest finishes 1968 -1972
Top 5 Brownlow medal finishes -1969, 1971
Career Brownlow votes -96
Victorian Rep. 1967-1972