PROFILE
'Buzzy' was one of the greatest players to ever play for Essendon, distinguishing himself as a follower and as a centre half back. He had wonderful dash, was an excellent mark and kick and was one of the fairest players of his day. He was renowned for his sportsmanship during his career.
He came from Essendon Association where he started at the age of 15 and played his first game with the Dons a month before his 17th birthday. In his second season in the Association, he had been recognised as one of the best footballers in that competition and he went right on with it in the League.
Busbridge won the Champion of the Colony award as the best player in Victoria in both 1908 and 1909. He also won the 'Sport trophy' in 1908 and the 'Argus award' in 1909 for being the best player of the year. He also played for Victoria in 1907, 1908 and 1912 including the first Carnival side.
Busbridge was centre half back in the Bombers 1911 premiership team, however his great career was dogged by injury. In 1910 he damaged his knee which put him out for two months and he missed the first 14 games in 1911 before being talked into making a comeback.
The same knee gave way in 1912, not only ending his career, but also putting him out of the premiership side. When later he was transferred in his employment to Geelong, he became a Geelong Committeeman and coached Geelong Grammar. Busbridge died in 1944.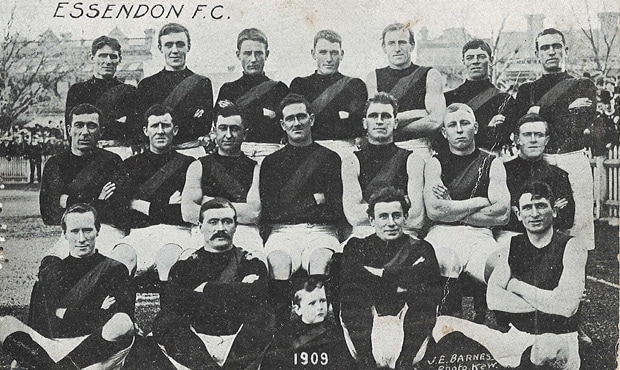 Busbridge is in the middle row, fifth from the left.
CAREER STATISTICS
Played 1904 -1912
Games 103
Goals 32
Premiership player 1911
Grand Final appearances 1908,1911
Finals appearances -8
EFC Best & Fairest 1908, 1909
Champion of the Colony 1908,1909