PROFILE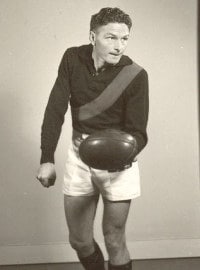 Bill Hutchison was tireless, brilliantly fast, a fine stab kick and an accurate shot for goal. He was so small and light that it was amazing that he stayed out of trouble- but his incredible skill saw to that. He was a credit to the game, scrupulously fair and modest and always superbly fit.
'Hutchy' became captain of the Dons after the retirement of Dick Reynolds in 1951 and he held that position until 1957. He had been vice captain in 1950.
He won the Brownlow Medal in 1953 at the age of 30 with 26 votes. He had gone close on a number of occasions. He had been third in the award in 1948 with 17 votes and in 1951 with 16 votes. Then, in 1952, he lost the award on a count-back. Later, in 1955, he was runner-up with 20 votes, only one vote behind the winner. He was also the Dons top Brownlow Medal vote scorer in 1947 with 13 votes and in 1950 with 16 votes. He was second top in 1946, 1949, 1954 and 1956 and third top in 1957.
He scored a total of 172 Brownlow Medal votes, the most scored by any Essendon player. Hutchy won Essendon's best and fairest award in 1946, 1948, 1950, 1952, 1953, 1955 and 1956 and was runner-up in 1949 and 1954. His seven best and fairest awards are equal best at Essendon with Dick Reynolds. He also won the best clubman award in 1951.
'Hutchy' came to Essendon initially as a wingman and played on the half forward flank in the premiership team of 1942. By 1946, he had become first rover and he was close to best on the ground in that role in the premiership victory that year. He was also a superb rover in the 1949 and 1950 premiership wins.
He played in 28 finals games and was the leading Essendon goalkicker in 1948 with 52 goals. Hutchy represented Victoria in every year from 1945 to 1954 and again in 1956. He captained the State side in 1953 and 1956 and won an All Australian blazer in both those years.
CAREER STATISTICS
Played 1942-1957
Games 290
Goals 492
Brownlow Medal 1952,1953
Career Brownlow medal votes-172
Top 5 Brownlow medal finishes -1948,51,52,53,55
EFC Captain 1951-57 (122 games )
EFC Best & Fairest 1946 ,1948,1950,1952-53,1955-56
Top 5 EFC best & fairest finishes 1946,48-50,52-56
EFC Premiership player 1942,1946,1949,1950
Finals games played -28
EFC Leading goalkicker 1948
All Australian 1953,1956