PROFILE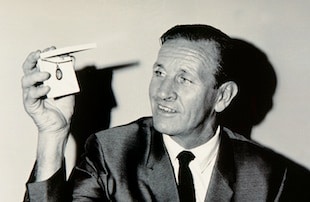 He was one of the greatest players to ever play with Essendon and one of the best rovers the game has seen. He came to Essendon at the age of 16 from Woodlands in the Essendon District League and went on to play 320 games, a record surpassed only by Simon Madden, and it was the League record until 1974. He won the Dons best first year player award in his first season.
He had no fear about going in to get the ball and his weight enabled him to compete with bigger players and often outmark them. His balance and ball sense made him a real artist and he was renowned for his superb dash away from packs. He could run close to the ground at full speed.
He won three Brownlow Medals and shares the honour of having won the award more than any other footballer. He won the best and fairest award in 1934,1936,1937,1938,1939,1942 and 1943 and was runner-up in 1935. His seven best and fairest awards is equal most with Bill Hutchison. He headed Essendon's goalkickers in 1943 with 31 goals and was second top in 1939 and third top in 1937,1938,1941,1942,1945,1947 and 1949.
'King Richard' took over as joint coach with Harry Hunter and at the end of the year he was appointed captain-coach at the age of 25. He held that position, until the end of 1950.
Under his reign, Essendon went on to win premierships in 1942,1946,1949 and 1950. For five years after he took over, the Dons were never out of the four. This was an incredible turn around for a team that had been down for so long. The Dons were runners-up in 1941,1943,1947 and 1948. As well, they were third twice and only twice out of the four.
His 27 final appearances have been surpassed at the club only by Bill Hutchison. He kicked 51 goals in finals, more than any Essendon player. He also played in six preliminary finals and 10 grand finals, the equal club record.
He played for Victoria in every year from 1934 to 1939 and again in 1941,1945 and 1946. Only Bill Hutchison has played more than his nine interstate years and, with 19 State games, only Bill Hutchison and Jack Clarke have bettered this. His 19 interstate goals is also the sixth top at Essendon. He was captain of Victoria in 1939 and 1946.
CAREER STATISTICS
Played 1933-51
Games 320
Goals 443
Brownlow Medal 1934 1937,1938
Career Brownlow medal votes-154
Top 5 Brownlow finishes -1934,37,38,39
Top 5 EFC best & fairest finishes 1934-39,42,43
Premiership player 1942,46,49,50
Finals games played -27
EFC Captain 1939-50 (224 games)
EFC Captain Coach 1939-50
EFC Coach 1951-60
EFC Best & Fairest 1934,1936-39, 1942-43
EFC Leading goalkicker 1943
Champion of the Colony 1937,1939