PROFILE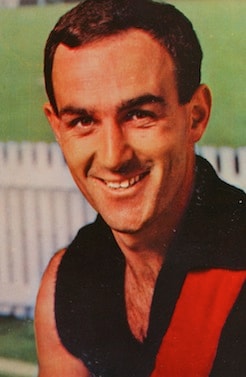 A great Essendon centreman and then rover. Clarke was a sporting natural and one of the smartest football thinkers of all time. Although he was lightly built, it didn't stop him diving into packs for the ball and he usually came out with it. His artistry was great to watch. His fearlessness also led to him receiving more than his fair share of head injuries during his career.
He was a superb Essendon captain from 1958 until he retired as skipper at the end of 1964. Only Dick Reynolds was captain for longer and Bill Hutchison for the same period.
Clarke won the best and fairest award in 1958 and 1962 and was runner-up in 1953, 1955, 1957, 1959, 1960 and 1963. He was also the Dons second top goalkicker in 1960 and 1966 (equal). His best goalkicking effort was six in a game in 1960.
He led the Dons superbly as first rover in the 1962 premiership victory and was also amongst the best in the centre in the 1965 premiership win. He polled 116 Brownlow Medal. Clarke won three All Australian blazers in 1953, 1956 and 1958 - a feat that had only been equaled by one other footballer.
CAREER STATISTICS
Played 1951-67
Games 263
Goals 181
Premiership player 1962,1965
Grand Final appearances 1951,1957,1959,1962,1965
Finals played-17
EFC Captain 1958 -1964 (121 games)
EFC Best & Fairest 1958,1962
Top 5 EFC best & fairest finishes 1953,55,57-60,62
Career Brownlow votes-
Victorian Rep 1953-62. Vic.Captain 1959,60,62
All Australian 1953,1956,1958