PROFILE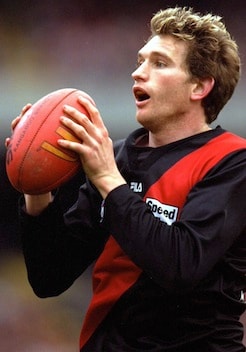 James Hird is ranked the third best player in the club's history. While he admitted to not being the quickest or most naturally gifted player, his ability to read the play, assert his will on games and lift his team mates set him apart. He became one of the most valuable and admired players in the League. His fine career however was blighted by long period on the sidelines owing to injuries.
Hird's father and grandfather both played for the club and there was never any doubt that Windy Hill was where he wanted to go. He was drafted at number 79 in the 1990 national draft, and arrived at Essendon from Ainslie in Canberra later that year.
Hird developed into a versatile player who could contribute around the ground but played mostly as a half forward. He could play in defence to nullify opponents and also kick goals when needed.
Hird was also a big occasion player and his Norm Smith medal for his best afield performance in the 2000 Grand Final, and his three Anzac Day medals in the Essendon Collingwood blockbusters, attest to this.
Hird won five best and fairest medals at Essendon (only Dick Reynolds and Bill Hutchison have won more), and also the Brownlow Medal in 1996 as the best player in the competition, an award he shared that year with Brisbane champion Michael Voss.
Hird was named Essendon's co-vice-captain in 1996 with Michael Long. The following year he began a long frustrating battle with injuries which was to last for three seasons and restrict him to only 20 games of a possible 68. In 1997 Hird hobbled from the ground in round four and finished the year playing seven games. He was appointed captain the following year but suffered problems with his hamstring restricting him to 13 games. His run with injuries continued into 1999 when stress fractures of his right foot restricted him to only two games for the season.
At times Hird was unsure whether he would make it back to play at the top level, and there was plenty of speculation that his career was over.
Hird made a welcome return to fitness in 2000 and what a season it turned out to be. He played 20 games (the most since 1996) captained the Bombers to the pre-season and AFL premierships, won the Norm Smith medal, gained All-Australian selection, and captained the Australian team that played in the post-season series against Ireland.
He again had a strong season in 2001, played 22 games led the Bomber to the 2001 Grand Final where they were beaten by Brisbane Lions. Hird suffered a serious facial injury in a freakish clash with a teammate's knee in 2002, which required metal plates to be inserted into his face. But he came back more committed than ever. Hird stood down from the captaincy 2006 but continued to play fine football winning his fifth club best & fairest award in his final season, 2007.
In September 2010, Bomber fans everywhere were excited to hear the announcement that Hird was returning to Essendon as senior coach.
CAREER STATISTICS
Played 1992-2007
Games 253
Goals 343
EFC Best & Fairest 1994,1995,1996,2003,2007
EFC Captain 1998-2005
EFC Vice Captain 1996
EFC Leading goalkicker 1995,1996
Brownlow Medal 1996
Night Premiership appearances 1993, 1994, 2000 (captain)
All Australian 1995,1996, 2000, 2001 (captain), 2003
Player honours: Brownlow Medal 1996; best and fairest 1994, 1995, 1996,2003 (equal),2007; 2nd best and fairest 2000; Norm Smith Medal 2000; All-Australian 1995, 1996, 2000, 2001, 2003; International Rules series 2000 (captain), 2004 (captain); Jim Stynes Medal 2000; Anzac Medal 2000, 2003, 2004; Norwich Union AFL Rising Star nominee 1993; EFC leading goalkicker 1995, 1996; premiership sides 1993, 2000; pre-season premiership sides 1993, 1994, 2000; captain 1998-2005; Brownlow Medal: 2000 votes (16); career votes (125).