One of the greatest players to ever play with Essendon - Coleman burst like a meteor on the football horizon in 1949. Fans were amazed to see him soar high over packs for spectacular marks, and they flocked to Essendon to see their idol in action. He was an overnight football sensation and the greatest goalkicker seen in League football.
In his first game in 1949, he stunned the football world, kicking 12 goals to equal Ted Freyer's opening round record set in 1935. He went from success to success and became the first League player to kick 100 goals in his first season. He broke Essendon's goalkicking record of 70 goals held by Tom Reynolds in 1939.
Coleman also won Essendon's best and fairest award in 1949 and was selected in the State side in his first year. He was the League's leading goalkicker again in 1950 with 120 goals and his four goals in the grand final again spearheaded the premiership win.
The full-forward again topped the League goalkickers in 1952 with 103 goals and in 1953 with 97 goals - his record was remarkable. He played in the State side in 1949, 1950, 1951 and 1953 and won an All-Australian blazer in 1953. Coleman not only won the Dons best and fairest award in 1949 but was also runner-up in 1952. He was vice captain in 1953 and 1954.
Coleman was kept goal-less in only one game - in 1952. In his second last game, he booted 14 goals against Fitzroy - the most goals ever kicked by an Essendon player. He also kicked 13 goals twice in 1952, 12 goals in 1949 and 11 goals in 1953. He kicked 10 goals on six occasions, nine goals three times and eight goals on five occasions.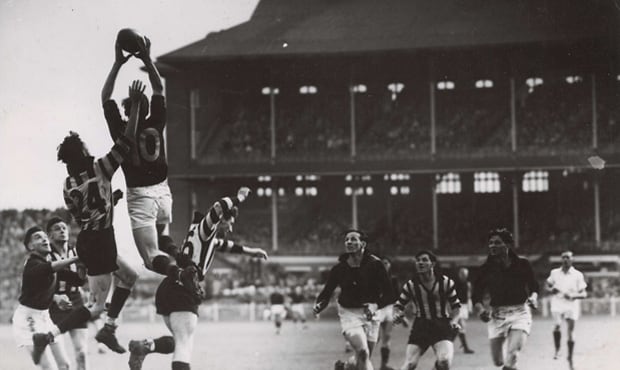 CAREER STATISTICS
Played 1949-54
Games 98
Goals 537
Premiership player 1949,1950
Grand Final appearances 1949,1950
Finals played-6
EFC Coach 1961-67
EFC Vice-Captain 1953-54
EFC Best & Fairest 1949
Top 5 EFC best & fairest finishes 1949, 1952
EFC Leading goalkicker1949 -1954
VFL Leading goalkicker 1949,1950,1952,1953
Top 5 Brownlow medal finishes -1949
Career Brownlow Votes
Victorian Representative 1949-51, 1953
Victorian Coach 1965
All Australian 1953