One of Essendon's greatest players, he dominated League football as a rover and forward. The fairhaired, five feet seven and a half inch star played with dash and cleverness. On his day, which was usual, he was brilliant and his bursts of speed were electric.
Forbes came to the Dons, without a clearance from Coburg in 1928. He had been a member of Coburg's 1927 premiership side. Prior to that, he played with South Melbourne Districts. At that time, he tried out with South Melbourne but was told he was too small.
He captained the Dons in 1934 and 1935 before standing down for Jack Baggott. He again took over as captain in 1937. He was the club's best and fairest in 1930 and 1935 and runner up in 1929 and 1934.
Forbes was the Dons leading goalkicker in 1929 with 40 goals (equal), in 1930 with 54 goals, in 1935 with 52 goals and in 1937 with 44 goals. He was also second top in 1931, 1932, 1933, 1934 and 1936. He was third in 1928.
He was runner-up in the Brownlow Medal in 1930 (equal) and in 1935 with 17 votes and was Essendon's equal top Brownlow vote scorer as well in 1929. He scored second top Essendon votes in 1934.
Forbes also played interstate football in 1929, 1930, 1932, 1934, 1936 and 1937. He was vice captain of the State side against South Australia in 1934. He won the Dons most serviceable player award in 1931 and 1933 and the best position player award in 1937.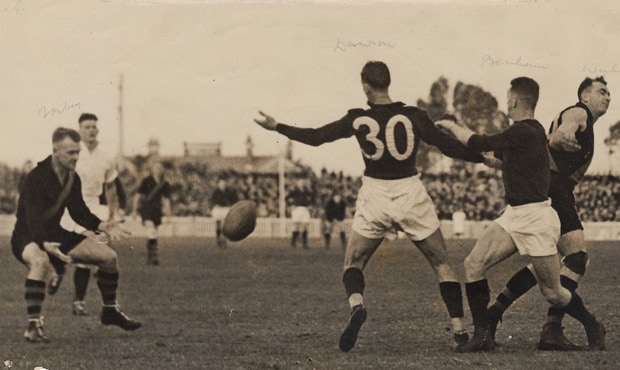 Forbes prepares to gather the ball.
CAREER STATISTICS
Played 1928-1937
Games 152
Goals 415
EFC Captain 1934-35,1937 (47 games)
EFC Vice Captain 1936
EFC Best & Fairest 1930, 1935
Top 5 EFC best & fairest finishes 1929,1930,1934-36
EFC Leading goalkicker 1929,1930,1935,1937
Top 5 Brownlow finishes -1930,1935
Career Brownlow Votes
Victorian Rep. 1929, 1930, 1932, 1934, 1936, 1937