During his career - Mark Harvey made his name as one of the best centre-half backs in the league. His experience and skill showed in every game - he took everything so calmly, as though he had minutes to decide what to do - other players would just crumble.
Injury was unkind to Harvey, and he missed much of 1994 and 1995 with ankle problems. In 1996 he played nearly every game, and showed some great form again in defence. Harvey would control the backline and his presence was always felt. He was famous for his ferocious attack at the footy and his never-say-die attitude. He has played in three Essendon premierships - 1984, 1985 and 1993, and ironically his major role in the first two were as a forward, kicking four goals in the 1985 win.
In 1997 after six games Harvey led his side out for the last time in a game at Optus Oval. His teammates and fans gave him an emotional farewell. His loyalty to the club saw him stay at Essendon Football Club as part of the Coaching team from 1998 on as Assistant Coach. Harvey was Assistant Coach for the Bombers 2000 premiership win.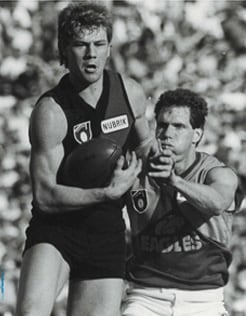 CAREER STATISTICS
Played 1984-97
Games 206
Goals 190
Premiership player 1984,1984,1993
Finals played -16
EFC Best & Fairest 1992
Top 5 EFC best & fairest finishes 1985,1988,1992,1993
EFC Leading goalkicker 1985
All Australian 1985,1993
Victorian Rep. 1985, 1986, 1992-94.
Night Premiership appearances - 1984,93,94