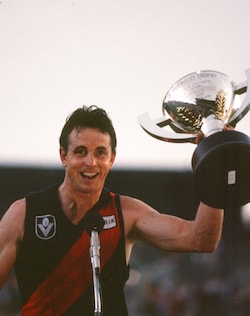 A great Essendon captain, who was aggressive, versatile and led by example. Daniher was extremely mobile, took a good mark and could hold down any position. He came to Essendon Football Club from South Melbourne where he played 19 games in 1976 and 1977 and before that Ariah Park and Ungarie in New South Wales.
When he first joined Essendon he distinguished himself as a full forward with great leading, strong marking and long accurate kicking. By 1982 he had become the versatile adaptable player who could perform equally well in attack or defence.
In 1983 Daniher became captain of Essendon, a position in which he inspired all. He led the Bombers from the half forward flank to premierships in both 1984 and 1985. He also skippered the Dons from full forward to the 1981 and 1984 night premiership victories.
He won Essendon's best and fairest award in 1982, was runner up in 1987 and third in the award in 1983 and 1984. Daniher played 71 consecutive games between 1981 and 1984.
The dual-premiership player was Essendon's top goalkicker in 1979 with 57 goals and in 1983 with 64 goals. He was also second top in 1978 and 1984 and third top in 1987. Daniher was selected in the State side in 1979 and then in every year from 1983 to 1987 and captained the State team in 1985, 1986 and 1987. He was also named in the All-Australian team in 1983, 1984 and 1985 and was captain in 1985.
CAREER STATISTICS
Played 1978-92
Games 294
Goals 448
Premiership player 1984,1985
Grand Final appearances 1983,1984,1985,1990
Finals games played -20
EFC Captain 1983-88 (127 games )
EFC Best & Fairest 1982
Top 5 EFC best & fairest finishes 1982-83, 86-89
EFC Leading goalkicker 1979 (57goals),1983 (64 goals)
Career Brownlow votes
All Australian 1983,1984,1985,1988
Victorian Rep.1979, 1983-89. Vic Captain- 1986,87
Night Premiership appearances - 1981,1994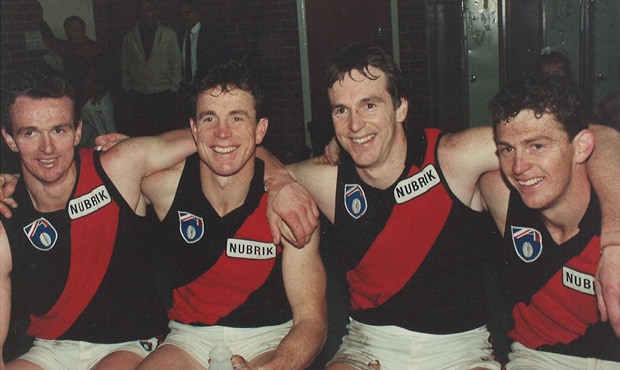 From left: Anthony Daniher, Terry Daniher, Neale Daniher and Chris Daniher