PROFILE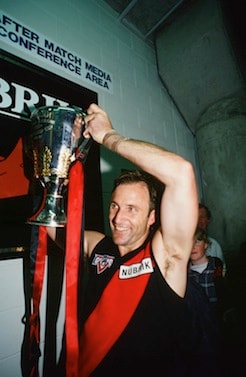 A brilliant, creative half forward and later ruck rover, he started in 1977 at the age of fifteen years and nine months after coming from Dimboola. He was one of the youngest ever players for the Dons. By 1980 his superb ball skills, pace and balance combined to make him one of the League's mosts dynamic players.
He is a strong, aggressive, explosive player and fans would roar with excitement whenever he went near the ball. He is a totally unassuming champion. He was Essendon's vice-captain from 1982 and was acting captain for some of 1982. He won the Dons' best and fairest award in 1980 and 1985 and was runner up in the award in 1982 (equal) and 1983.
In 1980 he was favourite to win the Brownlow Medal but polled disappointingly to finish third. He was the Dons' second top vote scorer in that year, being outpolled by Merv Neagle. He was also the Dons' top vote scorer in the award in 1982 with 15 votes.
He finished his career with 307 games and 335 goals. He was Essendon's second top goalkicker in 1980 and third top in 1979. He kicked seven goals in a game in 1979. He had the breathtaking ability to change a game in midstream and is at his best did it in big games. He starred as a ruck rover in both the 1984 and 1985 premiership wins, after being knocked unconscious early in the 1983 grand final.
He was also best on the ground in the 1981 night premiership win and starred on the half forward flank in the 1984 night premiership win. Fans still talk about his superb single handed swerving, hurdling match winning goal in the 1981 night grand final.
He represented Victoria in 1980 at the age of nineteen and he was the second youngest State player ever in League history. He also represented the State in 1983 and 1985. He was vice captain in 1985. Watson was lured out of retirement and was a member of Essendon's 1993 premiership side.
CAREER STATISTICS
Played 1977-91,1993-94
Games 307
Goals 335
Premiership player 1984,1985,1993
Grand Final appearances-5
Finals games played - 23
EFC Captain 1989-1991 (83 games)
EFC Vice Captain 1982-1988
EFC Best & Fairest 1980,1985,1988,1989
Top 5 EFC best & fairest finishes 1980,82-83,85,88,89
Top 5 Brownlow medal finishes -1980,1989
Career Brownlow votes-86
Night Premiership appearances - 1981,84,90,94