PROFILE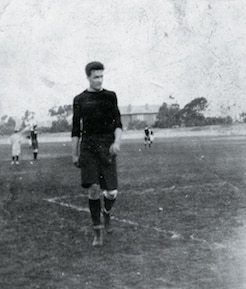 Tom Fitzmaurice was one of the greatest of all Essendon players. He was a superb high flying ruckman, and then centre half back - with remarkable marking ability. He had a fine physique and was fast for a big man. He was six feet two and a half inches tall and weighed 13 stone, and was the Victorian high jump champion as well as a top footballer.
Fitzmaurice came to Essendon from East Melbourne C.Y.M.S. He started as a star in the ruck and his beautiful style of play made him an idol. In 1921, he was transferred to Sydney in his employment and joined North Sydney. He captained N.S.W. in a game against Victoria.
When he returned in 1922, he had leg trouble - so he opted for centre half back and became the best Essendon player of the 'mosquito fleet' era. He starred in the 1923 and 1924 premiership victories and won the Champion of the Colony award as the best footballer in Victoria in both these years.
He was vice captain in 1922, on his return from Sydney, and he continued to perform superbly in the key defence role with his towering high marks and great dash. He was selected in the State side in 1919, 1920, 1922, 1923 and 1924. Fitzmaurice left the Dons after the unrest at the club following the 1924 premiership victory.
CAREER STATISTICS
Played 1918-20,1922-24
Games 85
Goals 30
Premiership player 1923,1924
Grand Final appearances-1923,1924
Finals played- 6
EFC Vice Captain 1922
EFC Best & Fairest 1922-1924
Victorian Rep. 1919,1920,1922-1924
Champion of the Colony 1923,1924