Best starting 22:
B: James Gwilt, Michael Hurley, Mark Baguley
HB: Michael Hibberd, Cale Hooker, Martin Gleeson
C: Brent Stanton, Jobe Watson, David Zaharakis
HF: Travis Colyer, Shaun McKernan, Zach Merrett
F: Tom Bellchambers, Joe Daniher, Jayden Laverde
Foll: Matthew Leuenberger, Brendon Goddard, Dyson Heppell
I/C: David Myers, Craig Bird, Orazio Fantasia, Darcy Parish
DEPTH
Key-position defenders: Mitch Brown, Michael Hartley, Tayte Pears
General defenders: Jason Ashby, Courtenay Dempsey, Aaron Francis, Tom Wallis*
Key-position forwards: Patrick Ambrose
General forwards: Adam Cooney, Yestin Eades, Shaun Edwards, Nick Kommer, Kyle Langford, Jake Long*, Anthony McDonald-Tipungwuti*, Conor McKenna*, Jackson Merrett, Mason Redman
Midfielders: Will Hams*, Heath Hocking, Ben Howlett, Alex Morgan
Rucks: Gach Nyuon*
At full strength the Bombers should be much better than the team that limped through 2015 and finished 15th. The addition of Matthew Leuenberger in the ruck will be important and allow Tom Bellchambers to go forward and help Joe Daniher. Craig Bird also comes into the team, which will make for a squeeze in the inside midfielder stakes with Heath Hocking and Ben Howlett, as well as returning pair Jobe Watson and David Myers after injury-impacted seasons. The club can't take too many one-paced midfielders into games so there'll be a pecking order there. Adam Cooney will also want to improve drastically on his 2014 season if he's to stay in the senior team. We think the Bombers have to keep blooding their youth, so we're sticking with Jayden Laverde in the forward line, Orazio Fantasia for his pace and giving No.5 pick Darcy Parish a run early in the year. Parish and fellow early selection Aaron Francis will be in the mix early next year because they are too talented not to be. Parish will quickly add some muscle to his frame and be ready to latch on to the ball and offer some run at senior level quickly. - Callum Twomey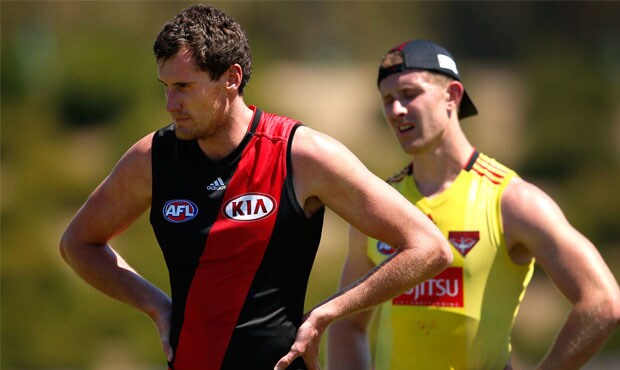 Yet to play a game for the Bombers, but Leuenberger is already seen by many as our number one ruck option.
Best starting midfield:
C: Brent Stanton, Jobe Watson, David Zaharakis
Foll: Matthew Leuenberger, Brendan Goddard, Dyson Heppell
Depth players: Adam Cooney, Craig Bird, Heath Hocking, Ben Howlett, David Myers, Zach Merrett, Jackson Merrett, Travis Colyer, Martin Gleeson, Darcy Parish, Will Hams*, Ben Howlett, Alex Morgan, Tom Bellchambers, Shaun McKernan
With skipper Watson missing the second half of last season and Myers playing just two games, the Bombers were obliterated at stoppages, finishing second-last in the AFL for clearances and bottom four for scores from clearances. The arrival of Swans premiership player Bird will give Essendon's on-ball division another hard body, while exciting draftee Parish is likely to be blooded. The arrival of former Lion Leuenberger could be the biggest boost for the Bombers in 2016, however, as they finished equal last for hitouts to advantage last season.