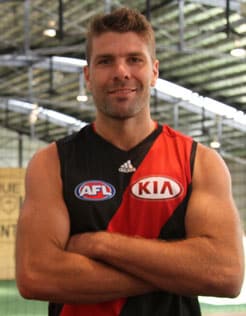 A phone call about a part time job has morphed in to something much bigger for Essendon recruit Mark Jamar.
Guy McKenna spoke to the former Melbourne ruckman before Christmas about taking on the role of ruck coach.
But now there is a real prospect it could be Jamar himself contesting the first bounce of the season with the 32 year old confirmed as the Club's latest recruit.
"I'm just grateful for the opportunity," Jamar said.
"No one saw this coming.
"It has brought about a good opportunity for not only myself and nine other guys who thought they weren't going to play this year - but also the young boys who may not have played – or may have only got a handful of games this year.
"All of a sudden they might be playing 10, 12, 15 games."
Despite the absence of some of the Club's best players this season, Jamar said there haven't been any signs the Dons would be taking it easy.
And he's further enthused by the quality of recruits already at the Club.
"From day one when I spoke to Woosha it was all about having a crack," he said.
"No one is rolling over here, we're going out to put our best foot forward and be really competitive.
"If you see some of the names we've recruited, I certainly think we're going to put our best foot forward to do that."
The recruitment of Jamar leaves the Bombers with four ruck options for the season.
Matthew Leuenberger, Shuan McKernan and Jamar are ready made options, while Gach Nyuon will be given time to develop.
"I've got a lot to offer them in that area and it will be great to work alongside them," Jamar said.
"Some of us will have to play key position at times as well. I definitely think there is room for three of us to play together.
"If there's not – that's the good thing about footy – the competitive nature and the environment makes everyone get better."