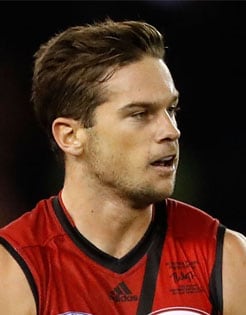 Forward turn defender, Patrick Ambrose, can hold his head high after a promising performance in Saturday's loss to the Tigers.
Ambrose was given the tough task of playing on one of the top forwards of the competition, running with Jack Riewoldt for the night.
Having only made the switch to the backline this season, Ambrose had a few nervous moments early in the game where it looked as though the Tigers' star may get on top of him.
However, Ambrose continued to work hard and managed to largely nullify Riewoldt's impact for the night – making him work hard for his two goals, six marks and 13-disposals.
"There were a few nervous moments early, but it's always a good challenge," said Ambrose following the game
"You want to play on the best players, and I learned a lot tonight playing on him. It was good to fight it out until the end.
"He was pretty explosive early and that hurt me a bit, but I just worked him over and stayed in the game."
Ambrose's natural attack and presence around the ball has seen him slot in quite seamlessly into Essendon's backline.
The 24-year-old is enjoying his time down in defence and is looking to continue his improvement as the season progresses.
"I like it down there, it's a different sort of challenge," said Ambrose
"Obviously, the ball is down there a bit this year, so I'm seeing a lot of footy, getting to a lot of contests, trying to improve and add another string to my bow."
The loss of defender Michael Hartley will put additional pressure on Essendon's backline as they prepare to make the trip West to take on Fremantle next week.
Despite going down by 38-points, Ambrose saw the team take a positive step forward and believe that they are one step closer to getting another win on the board.
"I think we won the combo, which is the contest and the ground balls, which was good and we played the game out – which is what we wanted," said Ambrose
"We kept playing out, which was the message from the Coaches.
"It was just a few skill errors that hurt us, otherwise we were in the game.
"We'll take it forward next week and try and get a better result.
"I think we're starting to gel in the midfield especially. We're winning clearances and the forward line is working well to reset, and the backline just trying to do our best."