This was the game where the Essendon jacket wave was born, but perhaps even more significantly this was the game the Bombers started to believe.
The Dons sat outside the top six when they ran onto the field to take on reigning premiers West Coast in round 16 of the 1993 season.
"They were always interesting games to play in because the build up was always fierce, there was always a lot of aggression," the Bombers then centre half back Mark Harvey said.
"I think this was the real opportunity where we started to believe something is beginning here … maybe something special."
The Dons trailed throughout the first half but a five goal to two third term had the side in front at the last change.
West Coast kicked the opening three goals of the last quarter to retake the lead.
With less than two minutes remaining, full forward Paul Salmon was awarded a free kick 45 metres out from goal.
"My recollection is that I went into that game having kicked eight or nine straight points," Salmon said.
"I couldn't kick a goal … I had the opportunities but I had what you could only call the 'yips'.
"I was starting to question myself and I think I had three or four points in that game.
"Mark Harvey came past and said 'car park, you and me if you miss'.
"The boys justifiably weren't that confident but I've always seen the lighter side of moments.
"I just remember really relaxing through that … it was a wobbly kick but it went through."
The Bombers held on to win by two points.
"On reflection to be a small part of those moments that are memorable for Essendon supporters is pretty special," Salmon said.
Little more than three months later the Bombers were celebrating a premiership win.
They had found their belief.
The next chapter in Essendon's rivalry with West Coast will be played out on Sunday at Etihad Stadium.
Bring your jacket.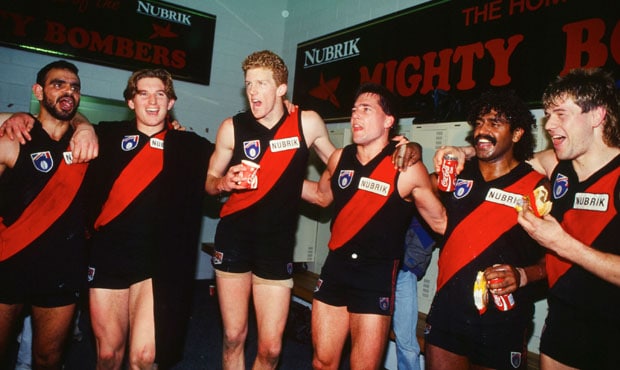 The Bombers sing the song after their win over West Coast in 1993.