Dyson Heppell says Jobe Watson has been like a 'father figure' for the playing group throughout his career.
Watson announced on Wednesday the 2017 season will be his last.
He has played 217 games for the Club so far, captained the team for six seasons, won three Crichton Medals and was named in the All Australian team on two occasions.
"I'm stoked that Jobe was able to come to that decision," Heppell told Bomber Radio.
"I think it will be a bit of a weight off his shoulders and I think he'll really enjoy the remainder of the season, whether that be finals or not.
"He's had an enormous career, I've certainly learnt a lot from him – not only as a player but as a leader.
"He has been a great friend and done so much for this Footy Club.
"It has been an amazing career and we're pretty saddened by the news."
Heppell admits he was emotional when Watson revealed his intentions to retire in a phone conversation on Tuesday night.
"I choked up a bit when he let me know," he said.
"I just heard him out and really just thanked him for what he'd done for us and done for myself.
"He spoke so well in front of the playing group this morning (Wednesday) … he's moving on to the next chapter of his life."
Heppell said his former Captain has played an important mentoring role for his teammates.
"He's a real father-figure for the playing group," Heppell said.
"He is someone that anyone feels comfortable going to for advice.
"A number of times he'll just shoot you a message out of the blue just checking in, seeing how you're going.
"He's one of those blokes that has that real genuine care for his teammates and someone you just love being around."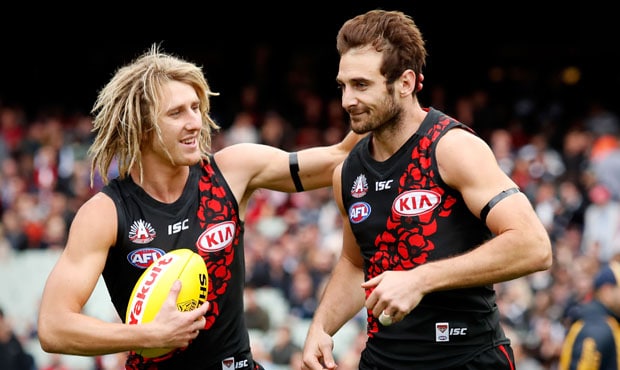 Heppell and Watson were back on the big stage together this season, including when the Dons beat Collingwood on ANZAC Day.
Watson had just finished his first season as Essendon Captain when Heppell arrived at the Club as a high prized recruit at the end of 2010.
"He was one that really encouraged me to embrace the culture of the Footy Club and really try and help drive the group from such a young age," Heppell said.
"He was one that really encouraged me to voice opinions and talk up in meetings.
"It wasn't really wait your turn to speak, it's 'get in there and help shape this Footy Club the way you want it to be'."
Heppell said Watson has led by example throughout his career.
"Numerous times he dragged us across the line," he said.
"He'll be remembered as an absolute superstar.
"He was someone that stood up in really big games – that's what players really pride themselves on and Jobe certainly did that.
"The only thing he's desperately chasing is a premiership.
"To be real when he did tell me that (of his intention to retire), it did give me that extra bit of motivation to want to achieve that for the Club, but (also) for him.
"The motivation levels won't be any greater than they could be now.
"It's an exciting period for the next few weeks."