The nephew of Maurice Rioli - the Richmond Football Club champion of the 1980s - and close cousin of Michael Long, Dean Rioli grew up on the Tiwi Islands in the Northern Territory, but was recruited from the South Fremantle Football Club in the 1998 Rookie Draft.
He was a member of South Fremantle's 1997 Premiership winning team. He kicked four goals in that game.
Kevin Sheedy loved Maurice and he wanted to give Dean a chance. His father, Sebastian Rioli, played for South in the 1970s.
Dean is a member of the famous Rioli clan from the Tiwi Islands. He came to Essendon 19 years ago on a rookie wage. The rookie list was established in 1997. Dean was in the second intake. He was initially on a contract of $10,340, which was lifted, to $11,200 in 1999. He had to buy a fridge, pay tax and buy a bed and a washing machine. He would do football clinics to pick up an extra $100 per week.
Through all this, he was a dynamic footballer. Anthony McDonald-Tipungwuti inspires today's young generation. Rioli thrilled the crowd just as much as Walla does so you get the idea.
Dean's highlight package has everyone covered.
Dean Rioli's story is a great story.
"I came to Essendon to play in a premiership with Michael Long"
Essendon v Western Bulldogs
Docklands Stadium
28th July 2000
7.40pm
Crowd: 45,725
Essendon was undefeated with a percentage of 170.
History will show the Dogs recorded an upset win by 11 points, taking away Essendon's opportunity of going through the season undefeated. While the Bombers had set themselves to go through the season undefeated (from about Round 17 or so) the loss paled into insignificance. The rest was history. We lost Rioli but won a mighty premiership. No one cared much about the loss. Everyone's attention turned to Dean. Remember the journey he had made. Shattering.
Dean had missed many games in 2000 and had just returned to the side. He played in front of 91,000 people against Carlton, then 50,000 at Docklands against Hawthorn. He was fit and in form and his presence gave an already outstanding team another significant talent.
Fit and at his best, easily in Essendon's top team, if not the top 10. He was peaking heading into the 2000 final series.
Disaster struck when Rioli and Chris Grant met on the half forward flank on the members' side. It was a fair clash with both players bracing for contact. The bump clipped Rioli's collarbone just in the wrong spot. Rioli was out for 6 weeks and would miss the finals series. It was bad break. He had no hope of being right.
Throughout the finals series Dean went to every training session and meeting. He tried his best to be positive and engage, but he also kept his distance in case his fluctuations in mood affected the players. He sat in the back of the coaches' box at Sheedy's invitation. He sat quietly and respectfully.
On Saturday 2nd September, he took his place in the back seat of the coaches' box on the Southern Stand Wing. Dean sat through a Grand Final.
Jubilation, a premiership, euphoric. The walk down the steps onto the ground after a premiership is one of the great walks of all time. Amidst the pats on the backs, the handshakes I turned. Dean was by himself. It had broken him. I walked back and as they say, the rest is history.
The Channel 7 cameras caught us together, both in tears. Bruce McAvaney said some profound words. Those words can be heard on the footage. I have it in my 'saved photos'. I will never forget.
The footy gods can be cruel. The next year Dean made the Grand Final team against the Lions. This time Michael Long tore a hamstring on Thursday night. He (we) was 20 points up at half time. The Lions powered home while Michael Long watched from the grandstand.
Note: How good was he? His highlight tape ranks with Mark Mercuri as the most brilliant, mesmerising and gifted I coached.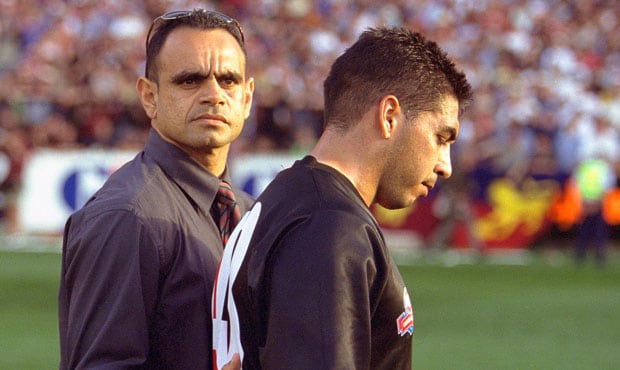 Michael Long comforts Dean Rioli after the 2001 Grand Final.
"Take Longy with you and don't come back without Rioli"
Kevin Sheedy pre-season 2001
Dean had jumped on a plane and gone home to Garden Point. An idyllic spot on the water's edge of Tiwi Islands. The Indigenous boys will do that from time to time. Family, reattaching with culture, 'sorry time' (death), wanting to dance, 'going bush' or just sit on a beach.
They hunt turtle, geese and buffalo. They fish the waters of the Apsley Strait. Learn about the oldest culture in the world and its people and you will appreciate and understand. It is a timeless land. The culture and the 'dreaming' is magnificent and I have had the two best teachers in Long and Rioli. I have been invited to sit around the fire and hear the stories. Now I have the privilege of teaching two young boys from Tiwi in Troy and Jordan. I teach them because of who taught me.
We fly to the Tiwi in search of Dean with Sheedy's message ringing in our ears. He wanted Rioli back immediately. He was bloody serious. The Rioli's live 100m down the road from the Long's on Melville Island so after catching up with Michael's sister, Kath, we walk down to Dean's house. We are welcomed with a big smile. "Lucky you blokes got here, the Barramundi are on the bite and the turtle have come into the strait," said Dean. This was Sunday afternoon. We went fishing that evening night, hunting for Dugong and digging turtle eggs. We caught Barramundi and coral trout. About 30 people came to the feast, cooked in traditional aboriginal style. I said to myself; 'this bloke's not coming back'.
The next morning we asked Dean if he would come back with us. 'Of course I'm coming back', was his reply. So the cunning mind of Longy slips into gear. This is his home to remember. "Shawy, do you want to spend the next four days on the island fishing, or do you want to jump on a plane, sit in economy in 47D and drink stale coffee with two biscuits?" I considered that question for eight seconds!!
I rang Kevin and said that Rioli refused to return. Then, the music to my ears. "I told you don't come back without Rioli". I hung up the phone and turned to Longy and Rioli; "fire up the boat boys, load the rods, we're on the water today."
So to cut a Long story short. This went on for 5 days! Every morning the same. Ring Sheedy and tell him Rioli has gone bush to hide from us. Same reply, as Kevin could see Rioli slipping through his fingers. "Don't come back without Rioli!"
So finally, in the end, on the Friday morning the three of us board the QANTAS flight to Melbourne. Longy gets us upgraded to first class which is a bonus considering we had to pay $200 excess luggage for 35 kilograms of filleted Coral trout, Barramundi, crocodile and Dugong. Kevin was overjoyed Dean was back and could not thank us enough.
"Bloody battle to get him back Kev," I said.
So we head home. In first class, we had silver service with the flight attendant offering a range of beverages with our meal. "Gentlemen welcome to QANTAS. I hope you enjoy the complimentary wine and meal on your way to Melbourne." We arrive in Melbourne at approximately 3:30pm. Lunch will be served shortly and todays meal is …pause…Grilled barramundi".
You are kidding aren't you!?