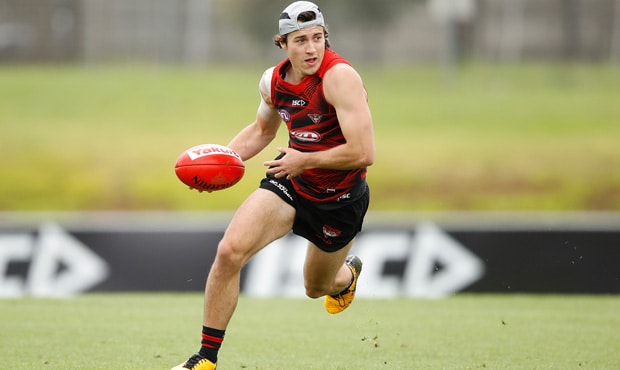 Essendon Football Club midfielder David Myers says young gun Andrew McGrath is ready to take the next step into the midfield this year.
Myers said the 2017 NAB AFL Rising Star has been training predominantly with the on-ballers in the pre-season and said McGrath has "improved out of sight".
The second-year player nicknamed 'Pigeon' spent most of his first season impressing as a small defender where he averaged nearly 20 disposals per game, but he has always aspired to push further up the ground.
"'Pidge' has been outstanding," Myers told RSN on Tuesday morning.
"His work ethic is first-rate and that's why he's had the year he had last year and that's why he's going to play great football."
Myers said he was not surprised to see McGrath show significant development in his midfield craft in recent months and said he had no doubt the 19-year-old could become a mainstay in the middle.
"If he wanted to play mid and they choose to play him more as a full-time mid this year then he'll more than hold his own," he said.
"He's a pretty impressive young man. "
Entering his 11th season at the Bombers, Myers said he was looking forward to taking up a more senior role developing young players like McGrath this year after the departure of several crucial veterans.
"I was having a chat the other day – myself, Tommy Bellchambers and Cale Hooker – and there's actually no one at the club anymore that was there before we got there," Myers said.
"We had a fair exodus of experienced players last year with Jobe (Watson), Brent Stanton, Ben Howlett, Craig Bird, Heath Hocking, so it's a fair critical mass of older guys that have left the team.
"I see that as a pretty big part of my role; to be fit, healthy, playing well and providing some direction and leadership to the younger guys who are still coming through (and) learning the game."
The veteran said he was looking forward to seeing Essendon's trio of recruits – Jake Stringer, Devon Smith and Adam Saad – work alongside the impressive contingent of young players at the club.
"I'm pretty excited about both of them working together and what we will be able to achieve as a unit given the natural development you'd hope the younger guys will continue to have," he said.
Myers said the trio had been "fantastic" since joining the team in the pre-season.
"Out on the track you just watch them go about it and I'm pretty confident that they're going to add a fair bit to the team."