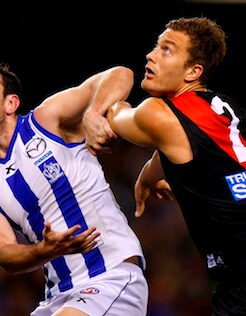 Essendon big man Tom Bellchambers is confident he is ready to return to the senior team after two full matches in the VFL.
Bellchambers continued his return from pre-season ankle surgery when he lined up in the Bombers VFL loss to Sandringham on Sunday.
The 24-year-old ruckman said his body had recovered well from his third match of 2014.
"My ankle is really good at the moment, I played my second full game back yesterday and got through unscathed," Bellchambers said.
"I am pretty happy at the moment with where everything is at, it has been best case scenario to be where I am at the moment."
"The doctors and physios are really happy and I am pleased as well."
Bellchambers said he was hopeful of returning to take on Brisbane on Saturday afternoon at the Gabba.
"I will train this week and see how I go at training this week," he said.
"If I get through training I would like to think I am a good chance to play this week."
Joe Daniher and Patrick Ryder have shown strong form over the first seven rounds of the season shouldering the majority of the ruck load in the absence of Bellchambers.
The returning ruckman praised the performance of the pair to start the season.
"I think Joey has had a great start to the year," Bellchambers said.
"He is just 19-years-old so to hold down full forward as he has over the last six weeks I think he has done a really good job."
"Paddy has been really good at taking the majority of the load in the ruck which is great for the team."
/* * * CONFIGURATION VARIABLES: EDIT BEFORE PASTING INTO YOUR WEBPAGE * * */ var disqus_shortname = 'essendonfc'; // required: replace example with your forum shortname /* * * DON'T EDIT BELOW THIS LINE * * */ (function() { var dsq = document.createElement('script'); dsq.type = 'text/javascript'; dsq.async = true; dsq.src = '//' + disqus_shortname + '.disqus.com/embed.js'; (document.getElementsByTagName('head')[0] || document.getElementsByTagName('body')[0]).appendChild(dsq); })();
comments powered by

Disqus