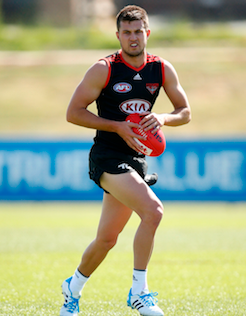 Third year Bomber Jackson Merrett has worked hard on improving his endurance and physicality to increase his ability to play through the midfield.
Merrett continued his development throughout the 2015 season with 14 matches including a standout performance against Carlton.
The youngster finished the clash with the Blues with a career high 35 disposals, eight inside 50's and two goal assists.
Entering his fourth season in the red and black the 21-year-old is confident of become a regular member of the team this season.
"Obviously you want to play as many games as possible but I have had a few goals through the pre-season and they were to improve my 2km time trial and gain a little bit of weight," Merrett said.
"The aim is for me to be able to handle myself a little bit more around the ball and hopefully that will help with the year ahead."
Merrett knows he has to showcase his versatility to play right across the ground in order to become a regular member of the senior side.
"The fourth or fifth person in the forward line is one of the hardest roles to play on the ground so ideally you would like to play further up the ground," he said.
"You are happy to play wherever it is if you are going to play every week."
Following the departure of Simon Goodwin from the club, Merrett has worked closely with forward line coach Nathan Bassett.
"Bass has been here the last two seasons so I am starting to get a bit more of a connection with him," he said.
"I was more with Simon Goodwin so it is about developing that chemistry where you can rebound ideas off each other."