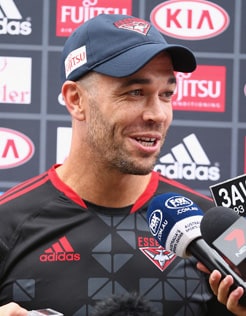 I was craving this chance and now I have got it I am not going to let it slip
Ryan Crowley
Essendon's first top-up player Ryan Crowley says he has a point to prove to Fremantle as he embraces a second chance at AFL football.
The 31-year-old, who missed 2015 after being suspended for testing positive to a banned substance before the Dockers delisted him, said the year off refreshed his body and he is ready to embrace the challenge.
He said proving that Fremantle made the wrong decision in delisting him provided some motivation, but he clearly remained on good terms with the coach, Ross Lyon.
"Ross [Lyon] sent me a text last night just to say good luck, and I told him I would see him in round 11," Crowley said.
The Dockers host Essendon at Domain Stadium in round 11 and the noted tagger is looking forward to the prospect of lining up on reigning Brownlow medallist Nathan Fyfe.
"We played on each a lot at training. I know a lot of his tricks and he knows a lot of mine, trying to help him break the tag and telling all the things I didn't like. Maybe that wasn't the smartest move, but he doesn't need too much help," Crowley said.
Crowley arrived in Melbourne on Tuesday and hit the track on Wednesday for a light run after signing a one-year deal with the club.
"My body is feeling great and my mind is right. I am as eager as I have ever been," Crowley said.
Crowley said he did not hesitate for one second in accepting the offer and saw it as an opportunity for redemption after his AFL career ended after a year's suspension.
"I was craving this chance and now I have got it I am not going to let it slip," Crowley said.
He said the fact that he had been found guilty of an anti-doping violation was not an issue for the Bombers or something he considered should rule him out of consideration.
"I served my time," Crowley said.
He said he would be willing to share with the 12 suspended Essendon players how he managed a year off if they wanted his insight, even though the circumstances were different.
"They have got to really lean on each other. For me it was quite a lonely place because it was only me going through it," Crowley said.
"I am not going to hide it. I went through some dark times. It was really, really tough, but they will be able to lean on each other, work together and they will come back."
Essendon can sign up to 10 top-up players, with former Geelong premiership player James Kelly visiting the club on Wednesday.
The Bombers are also understood to be interested in players including former Hawk Jonathan Simpkin, former Demon Mark Jamar, delisted Bomber Nick O'Brien and former Cat Mathew Stokes.
However many of the players being courted have crucial decisions to make given many had organised their lives post-football before the opportunity to resume an AFL career arose.
Crowley joins the club after 188 games, a Grand Final appearance and a best and fairest at Fremantle.
"[I've] got a lot of experience, played in big games, finals and Grand Finals, and a body ready to play AFL football," he said.
"Essendon has many talented young kids and they have a lot to learn and hopefully I can pass on some of my knowledge."