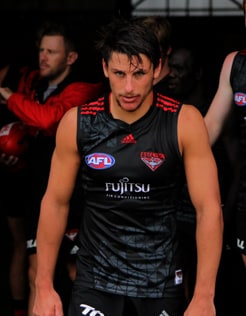 Mark Baguley's elevation to vice-Captain highlights the esteem he is held in inside the Essendon Football Club.
Only a few weeks after the 28-year-old was included into the team's leadership group for the first time.
Baguley now finds himself as the second in charge.
"It's a great opportunity for myself and Brendon to lead the Club," Baguley said.
"There's going to be a great opportunity for all the young players.
"We're just excited and are looking forward to a good season."
Baguley inked a fresh two-year deal with the Club during the off-season after another year where he displayed his reliability as part of Essendon's backline.
Although the disappointment of losing 12 of his teammates for the season is still very real for Baguley, he also believes it will provide the chance for the young group to prove something to the football world.
"Obviosuly it's pretty fresh in our minds still but we're trying to move on as best we can," Baguley said.
"We stay in regular contact with our teammates,
"We'll just try and do them proud and do our Club proud.
"I just want to be competitive and try and lead my teammates."