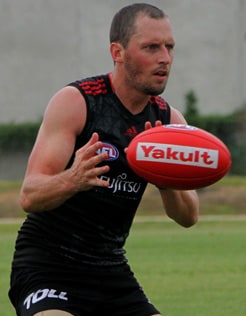 Essendon has added three-time premiership player James Kelly to its playing list for the 2016 season.
The former Cat is the second player to join the Club after Ryan Crowley signed on earlier this week.
"It's been a bit of a whirlwind to be honest but a very exciting few days, a little bit unexpected, but really exciting and looking forward to the challenge," Kelly said.
Kelly played 273 games for Geelong and was named in the All-Australian side in 2011.
He ran out for Geelong for the final time in round 23 last year.
After a 14 year AFL career, his body benefitted from some time off in recent months.
"I feel pretty good, I've just had the physio screening and it was all good then," Kelly said.
"I think having a few months off at the end of the season, while you're playing, is something you don't usually get to do.
"It's been really good for me. I'm not 'fit', but I'm fresh."
The Bombers can sign a further eight players.
Kelly said he's looking forward to playing alongside some young talent this season.
"It's a really unique experience, obviously it's been really talked about the changes that have been forced to go on here," he said.
"To be able to be a part of that and to help out in a small way, wherever that is, is really appealing to me.
"And also the challenge of working with a young group and helping them develop throughout the course of 12 months and see if I can make a small difference."