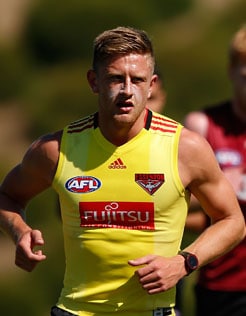 Jayden Laverde is eyeing a regular spot in the Bombers line-up this season.
The 19 year played the final nine games in his debut season and said the lessons he learned have helped him prepare for his second year in the AFL.
"You work out how hard it is last year and you get yourself ready and make sure you're doing all of the right things to get your body up each week," Laverde said.
"I'm definitely better off from last year.
"I just wanted to work on my fitness levels so I can get more time in the midfield, playing that high half-forward role.
"Hopefully I can do that a bit more this year and we'll see how we go."
The Bombers secured Laverde with the 20th pick in the 2014 National Draft.
After playing 10 games in the VFL, Laverde was called up for the first time against Melbourne in round 15.
He remained in the side for the rest of the season, averaging 13 possessions, four marks and four tackles per game.
Laverde's pre-season program has ramped up over the last few months and the Keilor junior is hopeful the hard work will pay off.
"I guess just getting as much as I can out of my body," Laverde said.
"It has been a good couple of weeks on the track - I'm feeling fit and ready to go.
"It has been a lot tougher, obviously there is more of a workload – hopefully it has put me in better shape than last year.
"Hopefully I can get as many games as I can and cement my spot in the side."