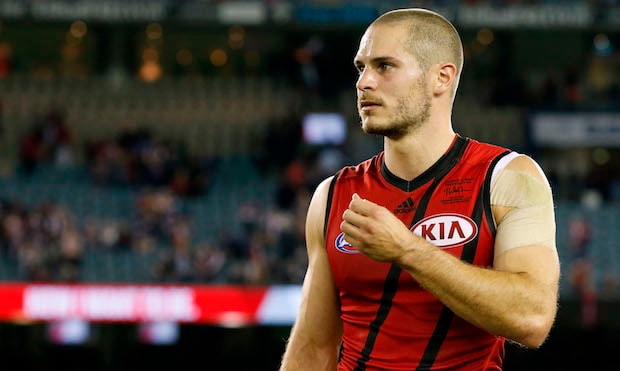 This year is proving to be a defining one for midfielder David Zaharakis.
At 26 years old, and in his eighth season with the Club, Zaharakis has shouldered a huge amount responsibility.
In previous seasons, surrounded by the likes of Watson, Heppell, Hocking and Myers, Zaharakis would not have often received the level of attention from the opposition that he currently is.
Now, he is being followed from pillar to post as opposition taggers seek to curb his ball winning abilities and nullify his impact.
Still averaging 28-disposals a game, it seems as though Zaharakis is doing just fine.
McKenna credited the midfielder for his ability to work through the tag, viewing this season as an opportunity for Zaharakis to really cement himself as one of the premier players of the competition.
"We see the development of David Zaharakis as he's been tagged," said McKenna
"As sort of an outside player who has gone inside, for him to get tagged and average 30-possessions a game has been fantastic."
The opposition's focus on Zaharakis has also been important for his teammates, meaning Zach Merrett, Brendon Goddard and others in the midfield group, are able to step up and have an impact.
Sacrificing his own game for the benefit of the team is something that has impressed McKenna.
"Like we saw against North Melbourne, he was able to take his opponent to another teammates opponent and create a two-on-one which creates an extra number," said McKenna
"I think he only had 12-possessions that day, but Brendon Goddard had about 38, Zach Merrett had about 30-odd.
"His ability to get in there and create an outnumber in a bad area for the opposition, and supply us with a 'free hit' in and around the stoppages was invaluable.
"We talk about having a lick of the ice-cream, he has had a good run, he's been tagged – well you can help someone else get off the chain.
"His ability to do that and process it mentally and then physically carry it out is a great testament to him."