In the three games since losing to Hawthorn, the Eagles have been sharp. They held off a very good Bulldogs team, prior to that beat the in form Port in Adelaide and disposed of the improving Dockers by 41 points. This came on the back of a real lesson they received from the Hawks at the MCG. Before that, they beat Sydney, so they are in good touch.
Apparently, there was an upset at the MCG last Saturday night!? I didn't see it that way. The Dons are back and looking fit and fresh.
Essendon has come out of the rut of fixturing, injury and form looking a lot more balanced and settled. The coaching panel showed some daring in running numerous options through the midfield last week and this took the pressure off Jobe Watson, Brendon Goddard, Dyson Heppell and Zach Merrett to carry the load.
Last Saturday night the Geelong comeback wasn't based on Essendon's fatigue (through lack of midfield options) but purely on Geelong 'being Geelong'. It was a great win by Essendon and, as mentioned in last week's column, as both teams have been poor tackling teams, the Dons had to have 80+ and predictably won the game on this work rate.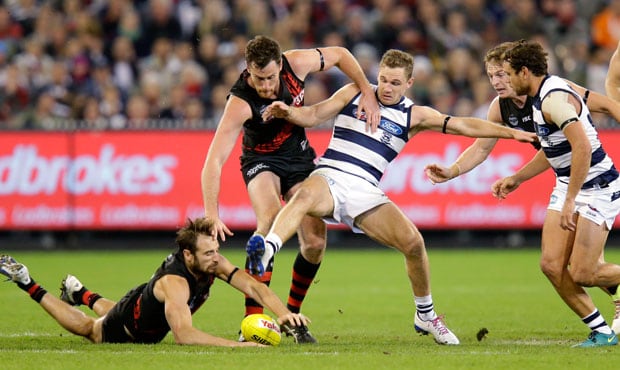 The Bombers pressure around the ball was a feature in the win over Geelong.
If the work rate drops off this week, West Coast will rebound. Also in Essendon's favour is its record against West Coast at Etihad Stadium, where it has won ten of 13 games against the Eagles. The clubs have not played there since 2014.
Injury
Mitch Brown, Jayden Laverde, Shaun McKernan and Patrick Ambrose remain out for the Bombers while Nic Natanui is the only significant out for the Eagles given the availability of Jamie Cripps, Drew Petrie and Jackson Nelson. They are very close to full strength.
Selection
Essendon could add height and ruck support as Etihad Stadium is one ground you could get away with it. But with the balanced forward line, I can't see it happening. Craig Bird's VFL form has been outstanding but with the Dons looking to settle the team into a month of stability, change is unlikely.
For West Coast, Cripps is an opportunist forward and a finisher is important to them but young Kurt Mutimer would be unlucky to be dropped.
Between the two teams, I expect only one change. Would the Eagles be tempted to bring in veteran Petrie on his home deck? Do not think so.
Tackling
There are two types of tackling.
Reactionary: where one team has the ball and the other team is just chasing.
Proactive: Where you actually win the ball back and turn it over through your tackling.
We saw the value of the latter last week against Geelong. Essendon will need to match the intent and aggression that culminated in the side's 81 tackles. Another big tackling performance from Essendon will take the Dons a long way down the track of winning.
The midfield battle
The key to the modern day midfield is 'layers'.
Essendon has been predictable in that it has been Goddard, Merrett, Watson and Heppell in the first layer. Over the years, the premiers have had a minimum three layers that go through the midfield. Hawthorn and the Bulldogs come to mind.
On the weekend we saw David Myers, Andrew McGrath and David Zaharakis push through there at times. McGrath showed glimpses of his capacity to slice through the midfield with his surging runs and explosive pace, taking yardage through the middle. If you add cameos with Orazio Fantasia and Anthony McDonald-Tipungwuti, plus Travis Colyer, then Essendon will build depth, options and spread through their 'mids'. Short term this is important. Long term this is an absolute priority.
I am not going to debate the point any further about taggers. My philosophy is clear. It differs to John's (Worsfold) philosophy but I guess that is the beauty of opinion. No way is that a criticism, just a philosophical point of view. Rory Sloane is nailed again … Adelaide crumble. Interestingly the accountability and focus of Heppell in his role on Joel Selwood was brilliant. He took responsibility and was disciplined.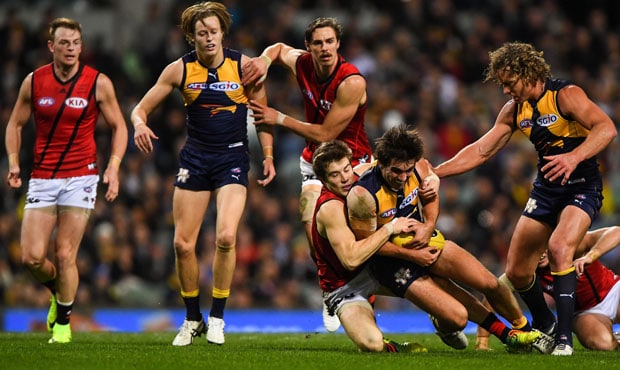 The Bombers need to be wary of Andrew Gaff's influence according to Robert Shaw.
There are two issues with the West Coast 'mids'. First, I would not tag Sam Mitchell and Matt Priddis. I would back our 'mids' head to head (with a plan) and then work hard off them.
Luke Shuey's burst of speed worries me. However, direct your attention to the Fremantle game. Did Nat Fyfe, David Mundy, Lachie Neale and Aaron Sandilands win it? No. An outside runner (Bradley Hill) accumulated 40 possessions.
Looking at this game, I will give you the name Andrew Gaff. If he has a 'Hill type' game save your Myki ticket on the Broadmeadows line and stay at home. Some good old one-on-one can distract Gaff. Worsfold knows him, knows his destructive influence and his direct line to Josh Kennedy. If Essendon people think I am overplaying Gaff then think Zach Merrett. Merrett is third and Gaff fourth in possessions across the competition. There is four the difference. Out of sight out of mind. Both left footers, both find their targets by foot.
The usual suspects in Watson, Goddard and Heppell will work out the contests with Mitchell, Shuey and Priddis. Chris Masten (half forward flank/wing) adds a +1 to West Coast's 'mids' and will push all the way up. He will play defensive wing and assist in getting the ball moving out of back 50. He is an accumulator and link player. Essendon must decide if it sits back and holds the line or goes with him.
Match analysis
This has the makings of a classic.
The Eagles are six and two a chance to go top.
The Dons are four and four and a chance to move into the top eight.
In such a tight season, we get to Round 9 and we have such a game. The focus may well be down at Geelong (Cats v Bulldogs) but this will be the contest and highest quality game of the round.
Both teams are in cherry ripe condition to make this happen.
Joe Daniher and Josh Kennedy at each end. We have discussed the tactics and match ups in an absorbing midfield challenge. Wellingham, Hurn and Shepherd v Green (2 goals), Fantasia (3 goals) and McDonald-Tipungwuti (3 goals). McGovern one end and Hurley the other!
Even Essendon supporters will reserve a courteous and respect 'welcome back 'to Sam Mitchell!
The left footers; Gaff and Merrett. The 'journeymen' ruckmen in Vardy and Leuenberger go head to head. Essendon's medium backs in Kelly and Dea v LeCras and Hill. The old 'pros' in Watson, Goddard, Mitchell and Priddis, with their footy smarts and tactical awareness will be great to watch. On the other end of the scale the exciting Duggan, Mutimer, McGrath and Parish, get to go to work. The second target match-up even has great significance to the result. Cale Hooker goes head to head with Jack Darling.
Tactically I believe that West Coast do not want the McGovern match up with Joe Daniher, mainly because they will want him to get to Stewart and then play the intercept-marking role. Barrass gets the big job. Keep pushing Joe up the ground and onto that big left leg. He can score from 60+ on this ground. I think WCE sits McGovern in front of him if he plays too deep.
I have never made any selection with my heart (except when I proposed to my wife) so even the most pragmatic analysis and assessment of this game surely sees a classic each-way chance. As the TV advertising icon of the 90s, Big Kev, said: 'I'm excited'. I just can't see either team not coming to the party. They are both primed.
Steak knives theory
In addition to the continuing TV advertising theme: "But wait, there's more…"
I can't split the two sides on the basic statistics. Have a look at these numbers.
Average Possessions: Ess 389 WCE 396
Average Clearances: Ess 34 WCE 36
Average Inside 50: Ess 47 WCE 50
Average Contested Possessions: Ess 140 WCE 141
Average Tackles: Ess 65 WCE 65
Average Hit Outs: Ess 36 WCE 38
Average Free Kicks: Ess 18 WCE 18
Average Scores Ess: 13.9 WCE 14.11
The comparisons are extraordinary in this sample:
Points scored per inside 50 entry
Essendon is 3rd with 1.97. Great efficiency.
West Coast not quite as high at around 1.87.
Therefore, if West Coast concede their average Inside 50's (53.75) against Essendon with the Bombers points per inside 50, the Dons will kick 105 points. On the opposite side if Essendon concede their average (58.7) of inside 50s against West Coast's points per entry says it will score 108 points.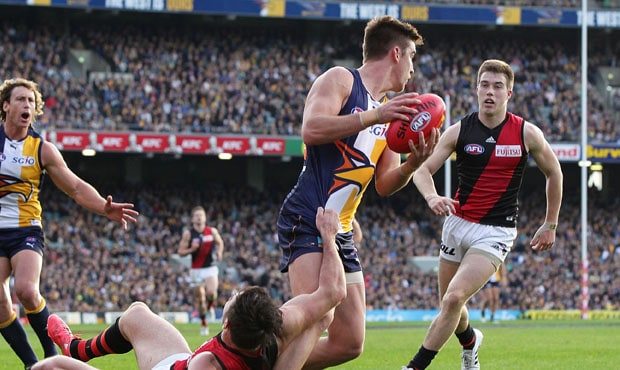 Elliot Yeo has been one of the Eagles best players this season.
The difference?
The only significant factor is contested marking.
Average contested marks: Ess 10.0 WCE 13. 8
Josh Kennedy, Elliot Yeo and Jeremy McGovern are in the top 10-12 for contested marks. Yeo and McGovern are great pack and intercept marks. Kennedy is the power forward heading for his third Coleman in a row. Cale Hooker is 7th, while Joe Daniher is 24th. Yeo can mark around the ground, and late in quarters he spends time in defence to shut down the game. He went to Fyfe and beat him.
Essendon certainly do have their own marking specialists so the tactics of forward line match-ups versus intercept marking will be crucial. Essendon have to kick to the hit-up lead from Daniher and Stewart. They can afford to isolate Hooker deep. Despite Essendon's three prong marking targets the Eagles will prey on high, slow bombs inside 50. Essendon's forwards need to keep presenting and the Bomber 'mids' must honour those leads.
Tip
I will stick with that point of difference. The Eagles are a very smart outfit and I'm selecting West Coast to win this by five points.
I can't see it going any other way other than being a great game.
I have discussed Gaff, so watch that planning on him very closely. In the end Yeo, McGovern and Kennedy make the difference.
Forget 11th v 3rd … Essendon is primed and ready.
For the Bombers faithful, and to finish the TV theme quoting Channel Nine's identity and colourful caller, 'Big' Daryl Eastlake; 'This will be HUGE!!'
WCE 15.18.108 to Essendon 15.13.103.
Eagles by five points.