Jobe Watson
What words?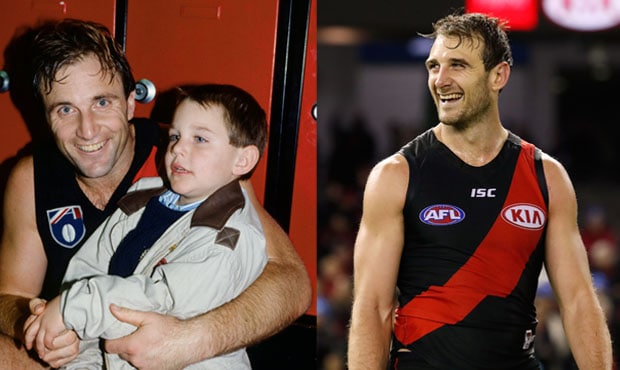 'From father-son ... to son of Essendon'
The Game
First thing we do is get the Showdown out of the way and put things into perspective. No team in 2017 has been as non-competitive as Port Adelaide was last week. NO TEAM. It was 40 shots to 11, +100 disposals to Adelaide, +20 clearances to Adelaide and +50 Inside 50s to Adelaide (for 81). Even my limited mathematical ability tells me that is an inside 50 every 90 seconds. Finally +50 contested possessions.
This is an extraordinary set up numbers but it will not happen this week.
The elephant in the room for the Dons is the injury to Orazio Fantasia and Zach Merrett's suspension. They are two of the most influential players in the team. One plays the back half of the square and distributes the ball so effectively; the other plays the front half, dissecting the opposition with penetrating runs. The Dons have been hurt in two key areas of the ground and two styles of play - the distributor and the line breaker.
Essendon has won four of its last five in a variety of circumstances and have three games left to move into the eight. The Bombers have had their chances but in order to reach the finals they must take on the might of the Crows at Etihad and firstly believe they can win and then execute the plan.
Despite a very resilient comeback, Adelaide was 50 points down against Collingwood and narrowly beat Carlton by 12 points. Teams get injuries and suspension but the Crows should be right in the crosshairs of the hunting Essendon pack. The Bombers have excellent 'IP' on the Crows players. At the start of the year, John Worsfold secured Team Strategist Rob Harding from the Crows. 'Woosha' spent a year there too and knows Don Pyke's thinking on football very well.
This is the Crows first visit to Etihad Stadium this year. It's certainly not a big issue but if Laird and Smith are stifled in their run off half back, it may well be to Essendon's advantage.
Selection
The Bombers have made a host of changes due to injury, suspension, team balance and players just needing a rest. James Kelly and Andrew McGrath are back to boost the defence, while the 'hard at it' Mark Baguley has a week off. Matthew Leuenberger is a handy back up for Tom Bellchambers in the ruck. Matt Dea – who can play on tall and small opponents – gets the nod over Michael Hartley. Jayden Laverde returns to take up the forward role vacated by Fantasia.
Based on this line-up expect Patrick Ambrose to go to Taylor Walker (Ambrose did a good job on Walker earlier this season), Hurley will play on Jenkins, McGrath gets the job on Betts and the combination of Gleeson and Dea takes Tom Lynch.
The Crows are unchanged despite the six-day break after the Showdown. That's not surprising given 84-point win.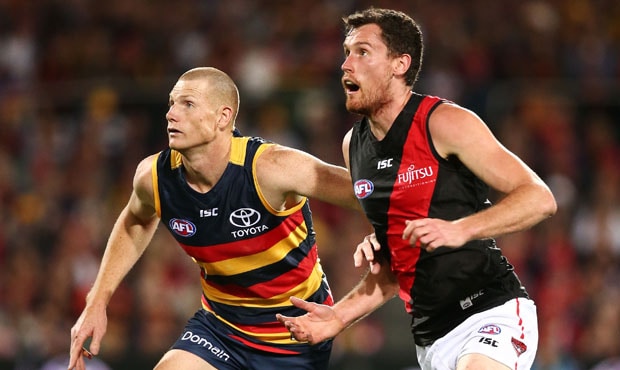 Matthew Leuenberger is back in the Essendon line up to take on Crows ruckman Sam Jacobs.
Injuries and suspension
The Fantasia and Merrett losses have been well documented. Fantasia is out for many weeks with a hamstring and Merrett will miss a week. Two Crows' face fitness tests ahead of Saturday night's clash. All Australian defender Daniel Talia (groin) and wingman David Mackay (corked quad) finished Showdown XLIII on the interchange bench. Talia reported tightness in the opening term but was able to play out the majority of the match against Port Adelaide. Mackay sustained a heavy hit to the thigh in the opening minutes of the clash with the Power.
How do Essendon win?
1. Stop their back half game
Brodie Smith averages 500 metres gained per game, while Rory Laird ran 15km against Port Adelaide. Hurley is Essendon's best with 433 metres per game. Lever's intercept marking is significant and he can't be allowed to play at the +1 intercept marker. Take away what they want.
2. Engage
Six forwards v six backs. Make the Crows defenders focus on an opponent and not simply guard space, setting up and running off. It is simple but it works. Port had two free men back allowing Laird and Lever free. Dear oh dear.
3. Play to Essendon's strengths
There has been talk of McGrath and Walla into the middle and while, on paper, this appears to add pace to the game, they are probably not trained up as midfielders yet. They can pinch-hit from time to time. It would not be wise to have both Walla and the injured Fantasia out of the forward 50. Adelaide would enjoy that. Keep the team settled and make the necessary changes one for one.
4. Put Sloane out of business
While the Crouch brothers have come on in leaps and bounds, the influence of their courageous leader is critical. This is such a big game I would certainly have looked at the experienced grouping of Hocking, Stanton or Bird to come into the side. In this case, experience is going to be invaluable.
5. Learn from the Pies game
Keep remembering that Collingwood dominated the Crows and led by 50 points. Merrett is a loss but that match showed you can beat them in the middle. The Pies beat them in contested possession and clearances in the mid zone convincingly. The Pies just could not stop transition in the second half led by Laird, Lever and Smith. But in saying that they have the most rounded game in the competition.
6. Be consistent in your application
The Crows have one of the most even sides in the competition so Essendon's mental and physical application must be at its best. It's an old cliché I know but take the game to the opposition, hunt them and set the tone. Keep pressure on and press their individual space.
7. Attack the corridor at Etihad
When Essendon wins at Etihad they attack through the corridor nearly 35 per cent of the time and while organised, circumspect defensive set ups will be important the Dons have to attack quickly to try and unbalance the settled and organised Crows defence. The Crows have the number one attack and the fourth best defence in the competition.
8. Bring back the physical game
The Dons have dropped off in the last three weeks and are now 18th in clearances, 14th in contested possession and 16th in tackles. The Crows are in the top three in these areas. The short-term aim is to break even in these three areas on the day. If they do that, the Bombers can win.
They have us in clearances, inside 50s, contested possession and tackles so they are dangerous signs. The Dons can match possessions and be far more efficient. That's the big trend we have to use. Then it's about defending the Crows rebound and the Dons will win.
However, you won't see a player pulling a stat sheet out of their socks to check statistics.
It is on the day. Get it done on the day.
Statistical analysis
Average Possessions: ESS 3RD ADEL 6TH
Average Clearances: ESS 18TH ADEL 3RD
Average Inside 50: ESS 12TH ADEL 2ND
Disposal Efficiency: ESS 4th ADEL 12TH
Average Contested Possessions: ESS 14TH ADEL 1st
Uncontested Possession: ESS 2RD ADEL 9TH
Average Tackles: ESS 16th ADEL 4TH
Average Scores: ESS 3rd ADEL 1ST
Marks Inside 50: ESS 7TH ADEL 1ST
Percentage: ESS 107 ADEL 141.5
Points For: ESS 1858 ADEL 2141
Points Against: ESS 1732 ADEL 1513
The Template
In the introduction, we looked at how the Crows statistical template destroyed the non-competitive Power. While we concede that the Dons will be more than competitive, the stats for the past two games have been average and will not stand up to the Crows statistically. The St. Kilda and Collingwood games were outstanding so if the Dons can get themselves back to their preferred statistical standards they will place a lot of pressure on the Adelaide team.
TEMPLATE

v. PORT

v. COLL

V ST K

V NTH

v. WB

V CARL

DISPOSALS

+90

+67 (tick)

+66 tick

-3 tick

+23

+14 fair

CLEARANCES

Equal

+8 (tick)

-3 tick

+23 tick

-14 poor

-14 poor

SCORING SHOTS

36

27 (tick)

33 tick

32 tick

32

29 good

MARKS IN 50

MARKS CONCEDED IN 50

12

13 (tick)

20 great

12 even

18 poor

13

17 poor

12 par

14 fair

CONTESTED POSSESSION

+11

+13 (tick)

+15 tick

+27 tick

-13poor

-1 par

TACKLES

70

59 (-11) ok

68 great

63

55 poor

57 poor

INSIDE 50

67

54 (-13)

61 tick

57

50 poor

53 average

IN 50 AGAINST

51

53 (tick)

44 brilliant

61 Poor

53

51 tick
From the Vault (What do we know?)
Mark inside 50
Against Port Adelaide the Crows had 18 marks inside 50 and for the season they are number one with an average of 15.1. That's three more per game than Essendon. If you are kicking with any accuracy at all this means you are getting 10-12 goals from set shots per game … this is far too high to allow. This will be a major focus of Essendon's preparation. Similarly, the Bombers will test the Crows with their marking power (if they keep Lever occupied).
The importance of Tom Lynch
This player is the key gut runner and sets up most of their play. You either have to have a super tank to play him or wait for him to come back through you. They can now give him an even freer rein with the likes of McGovern, Jenkins and Walker still able to stay at home. The Essendon match ups are good and because of elite running capacity, Paddy Ambrose will be able to cut off this source of supply, if the Dons don't use him on Walker.
Laird and Smith's influence must be negated
These two players are of All Australian run and carry from the defensive end. One might get off the chain and score against them but in games where both have been prominent, they simply do not lose. Much of the team's drive comes through their 'metres gained'. Essendon has numerous dangerous attacking options in the forward line and will most likely not 'negate'. With Fantasia out, they may now adjust with a 'defensive' forward. It has the hallmarks of a real shoot out when the ball comes in. If it is a head-to-head battle then Essendon must bring their best.
Tip
I was initially putting it down to personnel. Both teams love to attack and have multi-dimensional forward targets both in the air and on the ground. Fantasia balances out Betts, but he's gone. Advantage Crows.
Crows forward line: Walker 46 (goals), Betts 45, Jenkins 35, Lynch 26, Cameron 22, Otten 19 and McGovern 10.
Essendon forward line: Daniher 56, Fantasia 38, Hooker 35, Walla 32, Green 16, Stewart 14 and Zaharakis 11.
So the real issue becomes Fantasia's absence and the inside 50 delivery and service from Zach Merrett. Essendon can't be tempted to move McDonald-Tipungwuti onto the ball, further exasperating the issue of goal power.
This game is a finely tuned balance between two exciting offences and the clubs ability to minimise that offence. Daniel Talia is a great defender and may well be out with a groin, further adding to the intrigue. He faces a late test. It is ridiculous to judge the Crows form on last week. It was 'witches hats stuff'.
The Crows look so balanced and in such good form. They are clear favourites for this game. The loss of Fantasia and Merrett has thrown me out, as I was extremely confident in an Essendon win before that.
Adelaide dominate Essendon on the stats sheet but it was a soft win last week and I believe Essendon's 'replacements' - James Kelly, Andrew McGrath, Matt Dea, Jayden Laverde and Matthew Leuenberger - will get the job done in a stirring victory.
It's an old fashion 'must win' game.
Essendon deserve to play finals, but first they have to earn it.
Do they lift for Jobe?
Yep they do.