A leading journalist, high ranking football officials and an AFLW Coach are among the nominees for this year's Fujitsu General Football Woman of the Year Award.
The honour recognises a woman who has made a significant, positive and measurable impact to the advancement of women in the game of Australian Rules Football.
The award will be presented at the Fujitsu General Grand Final Comedy Debate on Thursday September 28 at Crown Palladium.
The nominees are:
Allana Dickie
Female Football Coordinator – West Australian Football Commission
Allana is the Female Football Coordinator at the West Australian Football Commission. She is a key member of the WAFC Diversity Committee that is leading an all of industry change to the way we approach equality in football. Outside of her work Allana plays and coaches football and continues to drive for improvement in the female game. Allana inspires change and growth in others, and has developed several programs that are assisting to develop the next generation of ambassadors for the game. Allana has a remarkable drive and energy to go above and beyond in order to leave the game in a better place than what it was.
Bec Goddard (middle) led Adelaide to the first AFLW premiership.
Bec Goddard
Senior Coach – Adelaide Football Club AFL Women's
Bec Goddard is the inaugural Senior Coach of the Adelaide Football Club AFL Women's Team. She has played a significant role over many years to ensure the AFL Women's competition was an overwhelming success in 2017. Her role as a female Senior Coach has given her a profile that has allowed her to encourage other women to strive for greatness. Bec led the Crows to a historic Premiership win in the first AFLW season. Bec has maintained her full time job with the Australian Federal Police throughout, and continues to inspire and encourage all women involved in Australian Rules Football.
Jess Smith
Talent Operations – AFL Victoria
Jess Smith has had great success in Talent Operations at AFL Victoria, managing the operations and strategic direction of the VFL Women's competition. Jess established a State League for women in Victoria and was responsible for securing the first women's State League Grand Final at Etihad Stadium and broadcast by Channel 7. Jess is greatly respected at AFL Victoria for her ability to encourage both men and women to advocate for gender diversity and equity. She has been a role model for many, using her vision and passion to create opportunities for all women in Victorian football.
Laura Kane
Football Operations Manager – North Melbourne Football Club
Laura's passion for football has allowed her to break down traditional barriers to become the Football Operations Manager at North Melbourne Football Club. Laura has spent most of her professional career as a lawyer however has been actively involved in football as a player, coach, administrator and board member. Laura has been the President of the Melbourne University Women's Football Club since 2014 positioning the Club at the forefront of development, progression and growth. At North Melbourne Football Club Laura has lead the bid for an AFLW license with vision, strategy and purpose. Laura assisted with the development of the inaugural Tasmanian State League for women and the North Melbourne Next Generation Academy.
Samantha Lane
Journalist & TV Broadcaster – Channel 7
Samantha Lane has been actively involved in the advancement of AFL for many years as a respected journalist and TV broadcaster. Samantha was a key commentary figure in Seven's coverage of AFLW in 2017, bringing stories, insights and inspirations from the coaches and players through her role as co-host on a pre-match panel show and a boundary side reporter. Samantha played a critical role in bringing to life the real stories of the participants and played an important role in taking the women's game to a mass audience. She is a passionate voice, advocate, news breaker and critic but ultimately a lover of the game, caring for fans and the interests of players.
The VicHealth Community Award will also be presented at the Fujitsu General Grand Final Comedy Debate.
The award recognises the unsung heroes, those who work in a volunteer capacity whether it is at grass roots level at Auskick or local footy, or through their volunteer contributions to clubs at the highest level.
Carolyn Hills
Carolyn Hills has been a trailblazer for women's football and her commitment to the WAWFL (WA Women's Football League has seen the league grow to become a healthy female sporting competition that constantly strives for professionalism and excellence. Carolyn has taken on volunteer roles within teams, within club committees, within the governing Board of the League since 2005, and for 7 years has been President of the WAWFL – the longest serving president in WAWFL history.
Charmaine Rogers
Charmaine Rogers has been supporting the progression of women in Australian Rules Football since 1996 and has undertaken various roles within the WAWFL for the past 21 years. Through her role as a board member and WAWFL president she has been able to support growth in female participation and developed strategies to ensure financial stability and secure the future of female football in WA.
Julie Allan
Julie Allan is proud to be a woman involved in the AFL, from her days of going to the football as a child, from her volunteer work at Gisborne Junior Football Club and Essendon Football Club. Julie is instrumental in the Social Marketing Committee raising funds over the past 17 years through organising Trivia Nights, Dinner Dances and a Fashion Parade along with organising sponsors and prize donors.
Leanne Backwell
Leanne Backwell is the highly respected President of the Lancefield Football Netball Club.. Her professional and tireless approach to the role has brought many positive outcomes to the club. Leanne has worked with players to draw up an action plan to encourage gender equality and a family friendly environment at the Club. Leanne has also led social justice initiatives for mental health awareness and to build an ongoing relationship with the Salvation Army's Foley House.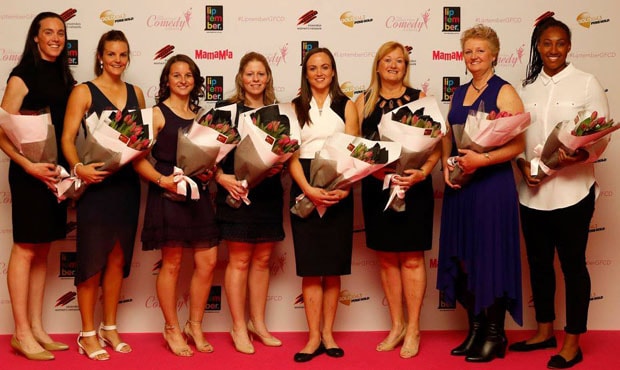 Daisy Pearce (fourth from right) was named Football Woman of the Year in 2016.
The Fujitsu General Grand Final Comedy Debate is a premier AFL endorsed event during Grand Final week featuring the announcement and presentation of the coveted Fujitsu General Football Woman of the Year Award and VicHealth Community Award.
This is a must attend event for all women and men who love football or work in the industry. The event also boasts a popular comedy debate moderated by Anthony 'Lehmo' Lehmann and an extensive live and silent auction segment.
This all-inclusive ticket will give you access to:
- Two course luncheon accompanied by premium Wolf Blass wines, beer and soft drink
- Presentation of the coveted 2017 Fujitsu General Football Woman of the Year and VicHealth Community award
- An outstanding comedy debate themed 'That AFL players deserve their pay rises' moderated by Anthony Lehmo Lehmann. Featuring famous Australian comedians Lawrence Mooney, Jo Stanley, Charlie Pickering, Claire Hooper, Geraldine Hickey and Dilruk Jayasinha.
- Special live musical performances by Paulini from The Bodyguard Musical
- Live and silent auction featuring holidays, homewares, beauty products and more
- A special Antler clutch for all guests and a goodie filled BCNA bag
Please contact info@grandfinalcomedydebate.com.au if you have any queries.