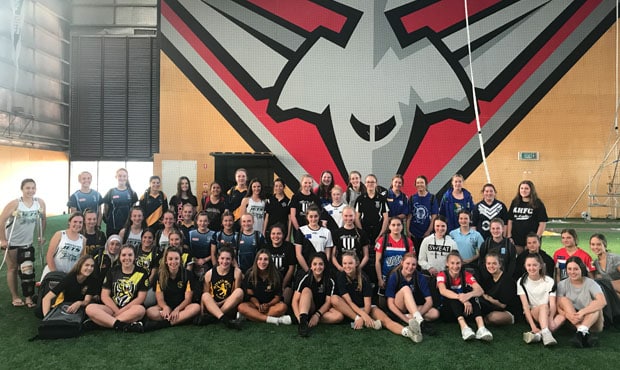 Essendon has shown it's ongoing commitment to enhancing female development and participation in Aussie Rules, through the conducting of an Academy program aimed at emerging female talent.
Over six weeks, a program involving Jobe Watson, David Myers, Zach Merrett and Brent Stanton oversaw the development of almost 70 members of the Club's under 14 Youth Girls Academy.
"There was an amazing amount of energy and enthusiasm from the girls throughout the duration of the program," Essendon's General Manager of Community, Academies and Women's Football Development Darren Harris said.
"The final result was we had almost 70 graduates who can now return to their local club with an enhanced skill set and they'll also be strong advocates among their peers for the Academy we run here at the Bombers."
The training program focused on game sense, decision-making and skill acquisition.
But there was also significant time spent on leadership, nutrition, cultural awareness and mental health.
"We wanted to make this program as professional and 'AFL-like' as we possibly could and we saw significant improvement among the girls throughout the time they spent with us," Harris said.
"We utilised the services of a specialist running coach – Kessia Ianzano – who provided a significant level of insight and also tackling coach – Malcolm Bangs – who took the girls through the technical side of that skill.
"We also wanted to make sure the girls were taught some broader skills like leadership and nutrition that will help them not just in their football career, but in whatever profession they wish to pursue down the track."
The Club has formed a strong partnership with the Calder Cannons, Essendon District Football League and the Riddell District Football League to provide a clear pathway through Essendon's VFLW side.
Many of the participants in the under 14 Youth Girls Academy will be eligible for the 2021 draft when its anticipated Essendon will enter the AFLW competition.