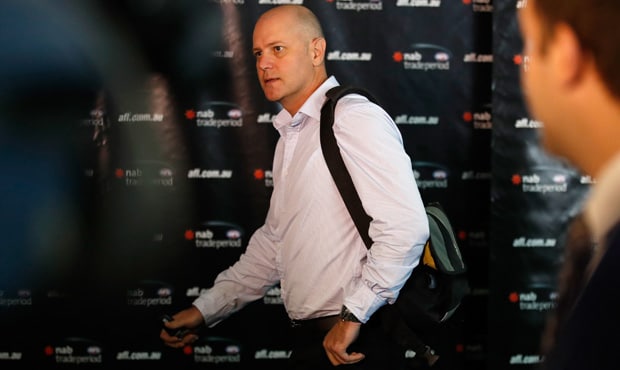 Essendon GM of Football Dan Richardson has spoken out about Game Performance Coach Mark Neeld's resignation.
Neeld departed the club on Tuesday as the club sits under mounting pressure after suffering its sixth defeat in seven games against Carlton on Saturday.
Richardson said Neeld had decided to leave coaching behind to pursue a business pathway after engaging in honest conversations in recent weeks.
"You're always challenging yourself to improve and find ways to improve and clearly when you're not playing as well as you would like those discussions are probably more challenging than what they might normally be," Richardson said on SEN on Tuesday morning.
"It became clear through those discussions that perhaps his long-term future wasn't necessarily in coaching.
"So as a result of that, it sort of came to a head yesterday whereby he made the decision that it was time to step away from coaching and pursue that career down another pathway."
Richardson stressed Neeld had not been moved on by the club and said senior coach John Worsfold was supportive of his decision.
"The reality is Mark's made the decision to move on, it's a selfless decision. John supports that, I support that and now we move forward as a footy club.
"It also gives us some time and space with some real clarity to make some decisions around what is the best structure and what are the best people that we can have around Woosha to move forward."
He also dismissed claims that other assistant coaches had been silenced from discussing strategy in the coaches box on game day, but said Neeld's absence will provide them with a chance to continue to develop.
"He had perhaps some authority over that aspect of the game, but certainly the assistant coaches are valued members of the coaching group," Richardson said.
"I guess, if anything, now there's a great opportunity before them to continue to grow and be even more valued."
Richardson threw his support behind Worsfold, who has come under intense public scrutiny in recent weeks.
"John is a premiership coach, so he's a proven coach," he said.
"He's a person that is of the highest quality, the highest standards, the highest principles and values.
"There's no doubt in the club's mind – there's no doubt in my mind – that he's the coach to take us to where we want to get to.
"John's got a terrific relationship with his players, as have the other coaches, and I see no question of any of the connection there."
Richardson joined Essendon in January after five years at Richmond and said his experience of enduring similarly tough times at the Tigers before reaping the rewards of last year's premiership success has given him confidence that the Bombers can bounce back.
He quashed suggestions that Worsfold isn't the man for the job and emphasised how quickly fortunes can change in the modern football landscape.
"I seem to remember that people said the same thing about Damien Hardwick not so long ago and said the same things about Richmond Football Club at the end of 2016 – that the place was in turmoil, that it was a basket case – well history says that wasn't the case.
"Things are never as bad as they seem in footy, just like they're never as good as it seems."
Essendon will look to bounce back against Geelong at the third annual Country Game at the MCG on Saturday.