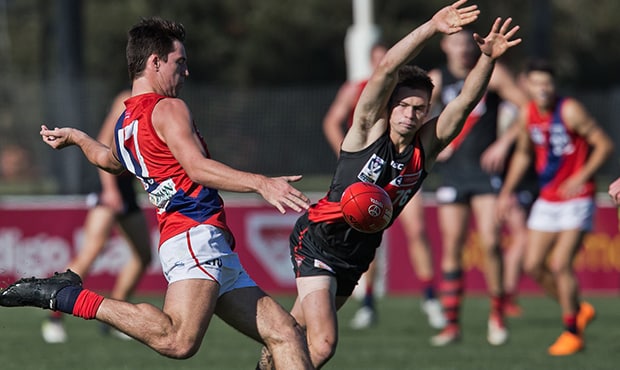 Can a debutant be called a journeyman? As Essendon forward Luke Collins proves, it is possible to be both.
The 23-year old Collins got his long-awaited VFL call-up from coach Dan Jordan to debut in Essendon's Round 10 clash with Coburg. It came after not only playing seven games this season for his local NFL club Montmorency but also being listed at the Casey Demons and the Northern Blues prior coming to the Hangar.
"It's a weekly push to keep playing the best footy I can to make sure I'm ready to play for Essendon when the time's right," says Collins, who came to Essendon during the off-season.
"It's been about going over previous training sessions and speaking with [forward line coach] Nick Daffy to make sure we're all on the same page."
Collins certainly had every reason to smile after his debut: he was presented with his guernsey by deputy vice-captain Danny Younan in front of the playing group before the first bounce, the Bombers romped home by 94 points and the first-gamer played up forward and iced the cake with the final goal of the game.
Although his debut is the culmination of steady grind and improvement, Collins is not resting on his laurels. He says he is "reasonably happy" with his 13-disposal, five-tackle maiden performance at VFL level and is ready to keep climbing the ladder after the Bombers' Round 11 bye.
"I made a couple of good efforts and felt quite comfortable," says Collins of his match against Coburg. "I'm keen to keep working hard and pushing for more game time."
The years of patience and dedication are just starting to pay off for Collins. Now, his way forward beyond his first steps in VFL will be defined by the truth he has learnt over the course of his career.
"It's taken a lot of hard work and commitment. It's just your mindset to keep pushing and playing the highest standard of footy you can and have that aim in your head."