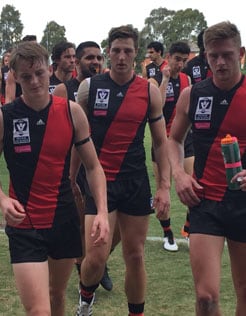 Essendon has conceded ten second half goals to go down to Werribee by 18 points in its opening VFL match of the season.
The Bombers were excellent in the first half and shot to a 25 point lead at the major break.
But they couldn't maintain the momentum as the big-bodied Werribee midfielders and their experienced forwards took control of the game.
"We over-possessed the ball and went backwards too often," Coach Matthew Egan said.
"We spoke after the game about learning from these moments. We did a lot right in the first half, but as the game wore on a lot of areas of our game plan fell away.
"Werribee are a very good team and once they got us on the outside, they knew how to use the ball quickly and direct."
Conor McKenna and Sam Grimley provided a presence in the attacking half for the Bombers, finishing with three goals each.
"I thought Conor from the wing and half forward set the game up for us really well," Egan said.
"He was excellent when he got his hands on the ball."
Jake Long continued his solid form, while Nathan Grima got through the full game in defence.
Captain Dan Coghlan and fellow VFL listed player James Ferry were also impressive.
"I thought James Ferry was really strong for us," Egan said.
"He won some crucial battles for us in the air, when the backs were under pressure, particularly in the second half."
It was a scrappy first ten minutes to the game, befitting a season opener.
When the players settled, the Bombers controlled the majority of the first stanza.
Mason Redman was an energetic presence in the forward half. He kicked a neat first quarter goal and also showed tremendous courage, going back with the flight to take a mark on the wing. He ended the day with two goals and showed plenty of physicality throughout the game.
The Bombers flexed some muscle in the second term as James Polkinghorne and Will Hams started to become more involved. The Dons kicked four in the first 14 minutes of the term to get out to a 31 point lead.
"The first half was really good, we were really aggressive with the ball," Egan said.
"We were direct and got it down quickly to some good one on one match-ups and defensively we did a lot right."
But Werribee wouldn't go away and in the second half, the crisp ball movement that had been a feature of the Bombers game deserted the team.
Werribee seized on the Bombers errors to kick five goals to one, bringing the margin back to five points at the final change.
And they continued the momentum in the last quarter, with another five goals to one term.
The Bombers next match is against North Ballarat on Friday night in Bendigo.
"We need to come with a good attitude to training and get back on track," Egan said.
"We know we can play – we saw that in the first half, it's just a matter of being really consistent with it."
Quarter by quarter scores
Q1 Essendon 4.2.26 Werribee 2.2.14
Q2 Essendon 10.4.64 Werribee 6.3.39
Q3 Essendon 11.10.76 Werribee 11.5.71
Q4 Essendon 12.12.84 Werribee 16.6.102
Goals: 3 McKenna, 3 Grimley, 2 Redman, Michael, J. Langford, Laverde, Polkinghorne