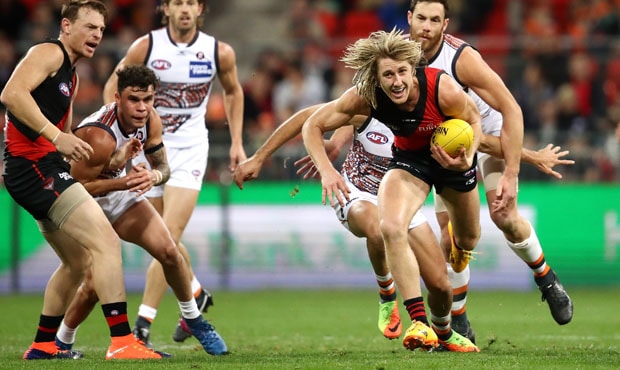 The Adam Ramanauskas award for the Most Courageous player is one of most highly coveted awards at the Crichton Medal.
It goes to a player who puts others before himself and displays personal courage on and off the field.
Mark Baguley won the award in 2014 and 2015, while Matt Dea took out the award last season.
Here are some of this year's contenders:
Zach Merrett
The reigning Crichton Medal winner led the Bombers in tackles and was ranked third for contested possessions this season. Merrett's ability to win the ball in tight situations is one of the key strengths to his game.
Mark Baguley
The tough defender has won this award in two of the last three seasons. After missing the second half of 2016, Baguley played 22 games this year and his unwavering courage was on display each week.
Michael Hurley
The All Australian was an immovable force throughout much of the season. Hurley led the defence and managed to consistently stop his own opponent while also helping others contain their direct match-up.
Dyson Heppell
The Essendon Captain won 55 more contested possessions than any other player at the Club. Heppell played every match and was one of the Bombers best in the Elimination Final loss to Sydney.
David Myers
Leading into the season Myers had played just two games in two years. He suffered a further setback on the eve of the season when he injured his finger. But the long kicking midfielder returned and was a key contributor in the second half of the season. He played his 100th match against Sydney in the Elimination Final, nearly ten years after he made his debut.
Patrick Ambrose
The defender suffered two quad injuries throughout the season but overcame his setbacks to feature in the final five games of the year. In a short time, he has quickly become an important member of the defence where his aerobic capacity and fearless approach to the ball are notable assets.
Michael Hartley
The 24 year old led the Bombers in one percenters this season with 167. Hartley set the Club record in that statistic last season with 185. His aerial strength is a key part of his game and he is able to regularly defend the opposition's long kicks into the forward 50.