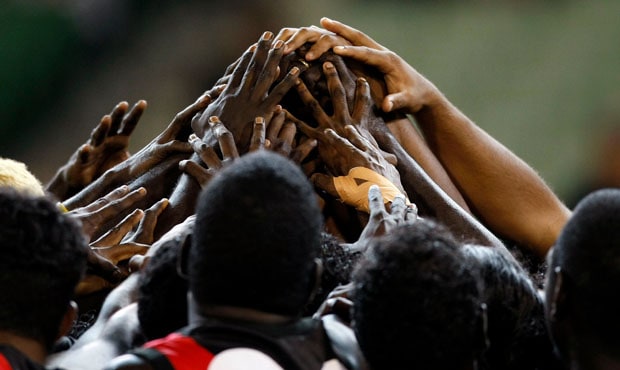 While the Tiwi Bombers' senior side's season has come to an end, monumental improvements have seen the club eyeing off a return to the top.
After finishing second last and last in their past two seasons respectively, the team's return to the finals this year is a strong indicator that the club is once again heading in the right direction.
The Bombers were stranded with just two victories last season, but improved dramatically after a slow start to record eight wins this year in a significant form turnaround.
Essendon is a major partner of the Tiwi Bombers, contributing financially to the club and providing pathways for Tiwi Islanders into the elite system through its academies.
Essendon's GM Community, Academies & Women's Football Development and Tiwi Bombers board member Darren Harris said there were many reasons behind the change in form.
"The improvement has been profound given the previous two seasons," Harris said.
"Led by senior coach Brenton Toy the boys have played with greater focus and a relatively simple game plan.
"Brenton has used mainly Tiwi boys living on Tiwi, which was not a high priority in the previous two seasons."
Harris said the initiative shown by several senior players was also a major factor in the side's form turnaround.
"Prior to Christmas a small group of the players took a stand and made it clear to the whole squad what it meant to play for Tiwi and if you were not prepared to step up and commit you would not get a game," he said.
Though the side's attacking efficiency improved this season, it is its defensive game and more secure squad that perhaps best expresses the team's improvement.
The Bombers conceded 440 fewer points this year as it used 21 fewer players throughout the season.
Harris expects to see more success from Tiwi footballers and believes Essendon fans will see more Tiwi players join the club in the future.
"This year will provide a lot of confidence in the community and assist off the field in gaining greater support from businesses and the broader Darwin community that Tiwi footy is now heading in the right direction," he said.
"We will be welcoming some of the young talent to the club for academy-based programs this year.
"While they are a few years off potentially being drafted, the club will be working with them to assist a possible future transition to Melbourne to don the sash."
Tiwi Bombers' premier side will now take a back seat as the club's under-18 girls team fights for a chance at the premiership in the semi-final this weekend.