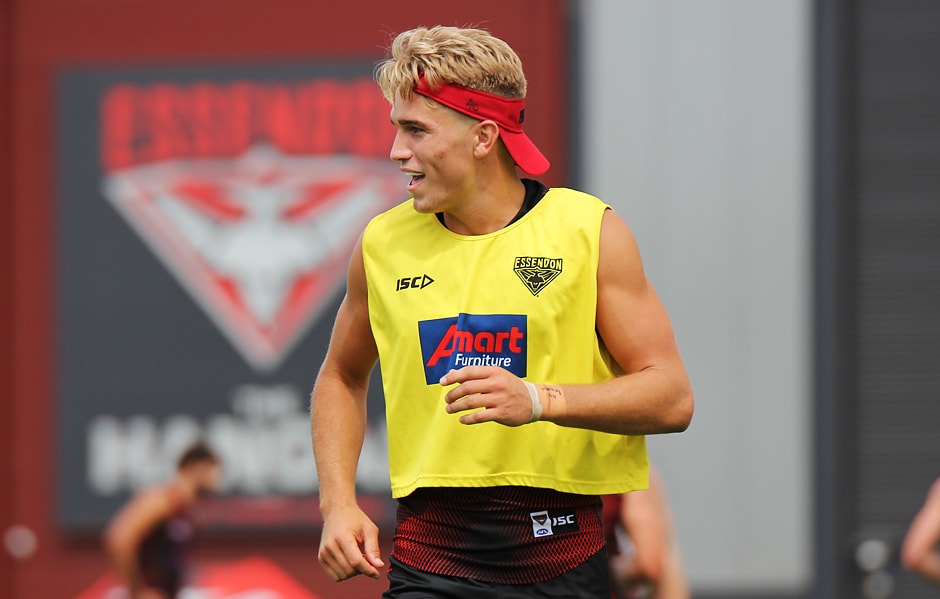 Matt Guelfi defied the odds in 2018, playing 15 senior games despite being taken at pick 76 in the 2017 national draft.
Entering his second season in the red and black, the 21-year-old speedster is striving to cement a regular spot in the Bombers' best 22.
Get to know our No.35 a little bit better...
Nickname: Prince of Perth
Any pre-game superstitions or routines? Pizza and pasta night before
Greatest individual effort you have seen on the footy field: Doss's (Jayden Laverde) three first-quarter goals
A player from another team you would love to play with and why: Zac Fisher - skillful, quick and funny
Best rule in footy: Holding the ball
And the worst: Out on the full
Your favourite TV football show: The Bounce
Favourite commentator and why: Brian Taylor – loud
Favourite meal the night before a game: Pizza
Which teammate should appear on the next series of The Bachelor? Trent Mynott
Teammate most likely to succeed after football and why: Dylan Clarke – book worm
Which teammate belts out your club theme song with the most gusto? Josh Begley
Favourite Netflix series: Shark
Favourite comedian: Carl Barron
Favourite animal: Leroy my dog
Your favourite possession: iPhone
Best gift you have received: Gift of playing AFL
If you won Tattslotto, what is the first thing you would buy? My parents whatever they want
Your favourite holiday destination: Perth
The most famous person you have met: David Zaharakis
The most famous person you would like to meet: Justin Bieber
Dream job if you weren't a footballer: Actor
Dream place to live in the world: Rottnest Island
The funniest/weirdest thing that has happened to you: Sam Draper celebrating goals at training
What scares you: Getting into a relationship
What is the one talent you wish you had: To be able to sing
CLICK HERE TO RECEIVE THE WEEKLY BOMBER BULLETIN