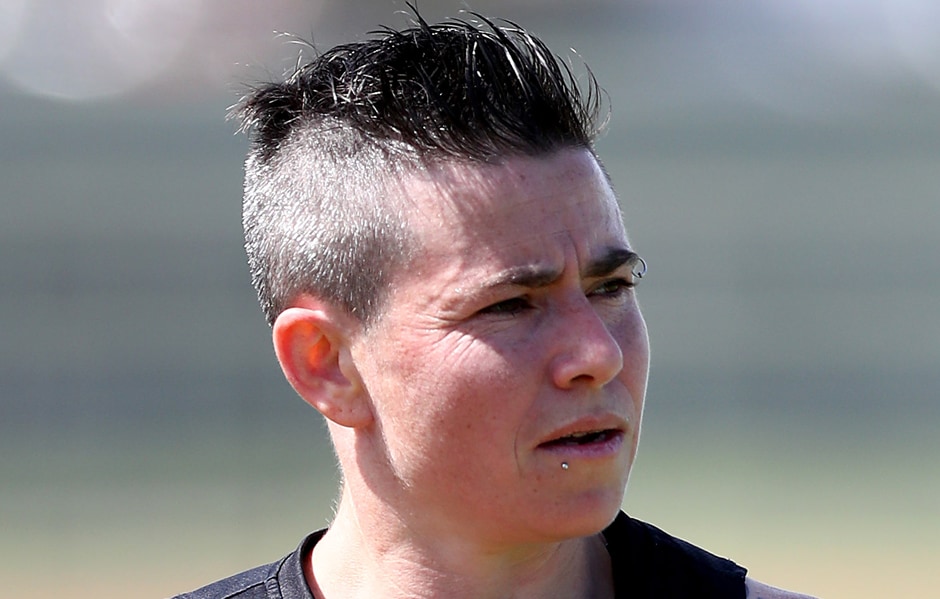 The club already has an AFLW feel the way they go about their coaching, the medical staff and also the direction of how we want to play football.
Cecilia McIntosh
Cecilia McIntosh and Essendon are a perfect fit.
The recently retired Collingwood AFLW player is affectionately known in footy circles as 'C-Bomb' but at the Magpies, that nickname evolved into 'Bomber'.
And now the 39-year-old is one.
The Commonwealth Games representative (javelin) and Winter Olympian (bobsled) has signed with Essendon for the 2019 VFLW season, bringing a wealth of experience not only with the Sherrin but as a professional athlete.
Earlier this year, McIntosh told The Age how she worked in supermarkets while chasing her elite sporting dreams for the past two decades.
While her AFLW days may be over, McIntosh tells essendonfc.com.au she wasn't ready to call time on her career altogether.
"When I retired from AFLW I still wanted to play VFLW and I'd always hoped to go back to Melbourne Uni where I played my footy. I spoke to the club and they said I could come back but I'd have to play VAFA because of the points system in the VFL,'' she explains.
"I spoke to Collingwood about continuing with the VFLW side, I reached out to Hawthorn and it was getting cut throat a few weeks out from the season.
"The week before Easter I spoke to (Essendon footballer) Kendra Heil and asked what Essendon's list was looking like. She told me to email Ash Brown (VFL football operations manager) which I did on the Saturday and first thing Monday morning he replied and called me.
"Tuesday I went in for a meeting and spoke to Ash and (coach) Brendan Major and signed the next day. I was over the moon."

A member of Collingwood's inaugural AFLW side, Cecilia McIntosh played 17 games for the Magpies. (Photo: AFL Media)
By Thursday, she was at The Hangar to meet her new teammates and train for the first time.
"I love it here. Knowing I was stepping down from AFLW I thought I might be taking a step back in terms of performance at an elite level but I've walked into the club and feel like I've gone up a level,'' McIntosh says.
"I want to help other players get drafted and with Essendon having such a young list and winning one game in their first year, I feel like I can contribute and help them grow.
"The club already has an AFLW feel the way they go about their coaching, the medical staff and also the direction of how we want to play football I've bought into already. At Collingwood, I didn't agree with what they were doing structure wise and the way they wanted to play, I don't believe that was the way we should have been playing but at Essendon I'm all in because I think this is the way footy should be played.
"The facilities are fantastic and the Bombers ticked all the boxes."

Cecilia McIntosh has embraced everything about Essendon. (Photo: Ben Johnstone)
And while C-Bomb has embraced the Bombers, she in return has been welcomed with open arms.
"I've been used to knowing my teammates for a long time because I was at Melbourne Uni for 12 years then when I went to Collingwood I'd either played with, or against, three quarters of the team already so it was kind of easy,'' she recalls.
"Coming to Essendon, I knew a handful of people and it scared me a little bit that I was new. It was kind of daunting but as soon as I walked through the doors each of the girls welcomed me like I'd been there forever.
"It was really cool because I felt accepted straight away and like I was one of them already."
McIntosh says she's looking forward to seeing the list grow and program continue to evolve as Essendon becomes a destination club for women's footy.
"I want to be a part of continuing the culture, which is already spot on at this club, so players want to come across to play VFL but when the AFLW team gets going they want to play for the Bombers as well."
A hamstring complaint will keep McIntosh out of Saturday's season opener against Casey Demons at Windy Hill, but she is on track to don the sash in round two against Geelong.
And a new role awaits the veteran.
"The first thing Brendan (Major) said when we met was that he wanted me to play on a wing and that he felt my best footy is when I play free,'' McIntosh says.
"I played a shut-down role in AFLW, did pretty well and stopped my opponents from kicking goals but I didn't feel I played that 'C-Bomb' game I used to at Melbourne Uni - my trademark run and carry game. Hopefully I can get back to that and playing on the wing I'll get that freedom.
"I can't wait to get stuck in."