For Dan Eddy 'Always Striving' was a lifetime in the making.
The Essendon supporter was collecting newspaper articles as a ten year old.
His meticulous newsgathering has paid off with the release of 'Always Striving'.
The book is a celebration of the key moments, people and events that have helped define the Bombers through its rich history.
"Mum and Dad learned very quickly not to bend any newspapers they brought home because I was pretty fussy on keeping everything," Eddy said.
"I knew one day I wanted to do something with it, but didn't know exactly what."
Eddy interviewed more than 100 Essendon players, coaches, administrators, officials and supporters before launching the book today.
'Always Striving' covers the establishment of the Club, early VFL success, the mid 20th century champions including Dick Reynolds, John Coleman and Bill Hutchison through to Kevin Sheedy's arrival, the Baby Bombers and today's players working towards the Dons next premiership.
"Always Striving sums it up and that's why it was so significant to use those words," Eddy said.
"The Club has been about always getting the best out of yourself.
"I interviewed a lot of supporters as well and the sense of 'community' was a really big thing. The Club really developed the Essendon community to be a big part of the Football Club and even though the Club has moved out a few more kilometres there is still that big community feel about it.
"There is always people around the Club to see the players and just be around the venue.
"That's something that was picked up by Dick Reynolds early on and those things have remained throughout."
Eddy said the arrival of Reynolds was the 'most' significant moment in the Club's history.
"It set a whole culture that permeated until he passed away in 2002," he said.
"He and Bill Hutchison really set the Club up in the 1930s and 40s and then there has been an expectation of success ever since.
"You had the 1940s when a whole heap of kids came through when they came back from the war.
"In the 1960s when John Coleman took over you had John Birt, 'Bluey' Shelton and this next young group coming through.
"In the early 1980s under Sheedy there was the same sort of feel and of course the 'Baby Bombers' in 1993.
"You get the sense that it's happening again now with Darcy Parish, Zach Merrett and these guys.
"You just get the feel we're on the cusp of a new tidal wave of success."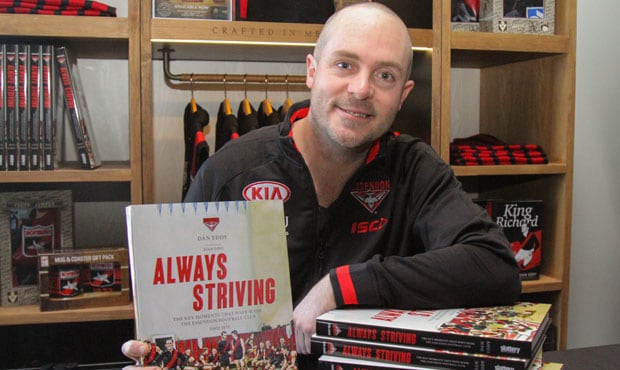 'Always Striving' is the culmination of a lifetime of work for author Dan Eddy.