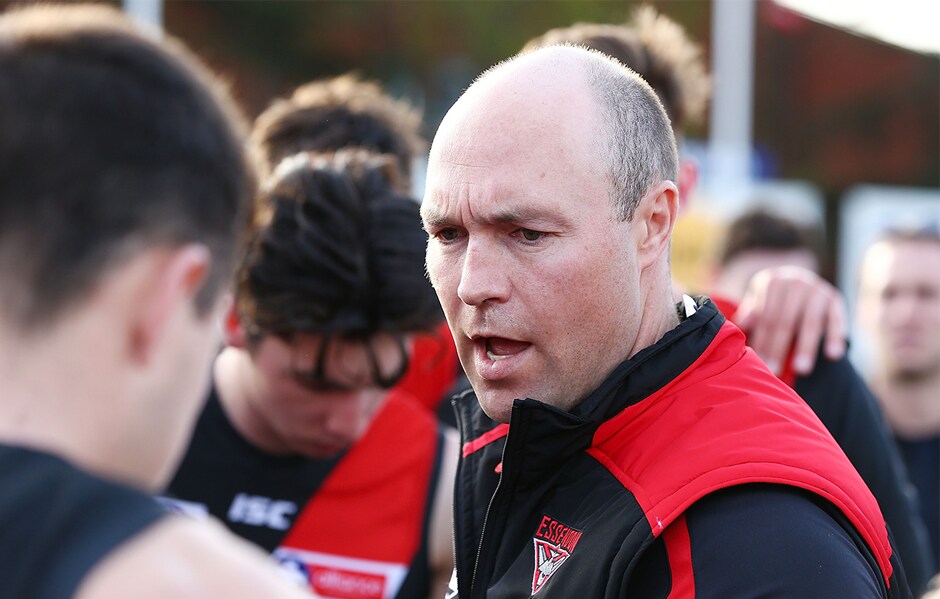 Essendon has confirmed its VFL coaching line-up for the 2019 season.
Senior coach Dan Jordan has been reappointed after taking the Bombers to the preliminary final in his first season while midfield coach Ben Patrick has signed on for a second season.
Former Essendon midfielder Ricky Dyson will take over the position of backline coach vacated by Wayne Schultz, who has switched to the Bombers' VFL Women's program. Dyson, who came to Essendon with pick 44 in the 2003 national draft and played 112 matches for the Bombers from 2004 to 2012, returns to The Hangar following a premiership-winning stint at the Bundoora Bulls in the Northern Football League.
"When I was asked to come back I thought it was a really good opportunity and that the timing was right," Dyson said.
"As a player you work really hard to improve yourself, but I think that as a coach it can be even more rewarding putting time and effort into people and seeing them achieve their goals.
"I guess that's why I do enjoy coaching and I'm looking forward to doing it at Essendon. I'm really big on relationships and putting a lot of time into the players and showing belief in them and helping them find their full potential."
View Essendon's 2019 VFL fixture
The departure of Nick Daffy has opened the position of forward coach. That role has been filled by former Essendon VFL vice-captain and development coach Matt Firman, who spoke with excitement about being an integral part of the Bombers' 2019 VFL program.
"To have actually been a player at Essendon as well and have a background into the systems and the expectations is a great thing," Firman said.
Firman was drafted to Essendon with pick 35 in the 2005 rookie draft but never played a game. After hanging up the boots at VFL level and travelling for two years, he returned to The Hangar in 2015 in the role of VFL development coach.
"My role was to get first- and second-year players who were coming from local footy or hadn't been a part of a VFL system before up to speed with Essendon's game plan and what the expectations were and what the structures were," he said.
Ahead of his second season at the helm, Dan Jordan said the VFL program was ready to benefit from the contributions of Dyson and Firman.
"Ricky's a great fit. We sounded him out and he was really keen to get back involved in the program and we're really happy to have him on board," Jordan said.
"Firmo's done a really good job with our development group in the last couple of years. I really like what he's brought to the program for the last couple of years. We thought it was great for his progression to get him to coach a line and he's really excited about the opportunity."
  document.getElementById("vudoo-iframe-12035189023").onload = function() {var vudooFrame = new vudooIframeEmbed({frame:this,embedid:"12035189023"});};var toggle_frame_screen=function(e,t){var l=document.getElementById("vudoo-iframe-12035189023");e?(l.style.position="fixed",l.style.bottom="0",l.style.left="0",l.style.width="100vw",l.style.height="100%",l.style.zIndex="500000"):(l.style.position="",l.style.top="",l.style.left="",l.style.width="",l.style.height=t.frameHeight,l.style.maxWidth="100%");};