At just 17 years old, Tynan Smith thought he'd never play footy again.
Like any other teenage boy with AFL aspirations, he was prepared to give his all in the hopes of securing a spot on a TAC Cup (now NAB League) list, but injury struck and put his dream on pause.
Unsure of where his footy would go post-under 19s, Smith played for Greensborough in the EDFL, before deciding it was time to test himself against the next level of players.
"I had a pretty good year last season, and after chatting with my coaches felt like I needed to push myself more, so I ended up sending an email to all of the VFL clubs asking for a preseason," the Essendon VFl forward explained, admitting his girlfriend partly pushed him into doing so.
"I would have been happy to do just a couple of days of a pre-season, but it was very much my goal to see where I was at compared to blokes in the VFL who I saw as being at that next level."
While a number of clubs were keen to get him in, Smith says Essendon "felt like home", because he found it was a similar system to the one he became used to at Greensborough, and was fortunate enough to be offered a contract for the 2019 season.
"Getting the call from (former VFL operations manager) Ash Brown, and then meeting and talking with 'DJ' (senior coach Dan Jordan) – everyone is just a genuinely good bloke.
"To have your Heath Hockings, your Aaron Heppells and your Danny Younans around as well, to see how professional they are and to have their wisdom and communication on-field, they're some of the nicest blokes."
Smith also recalls the first time he met AFL-listed Don Ben McNiece, who like everyone else, was just as welcoming.
"Benny came up to me at training, shook my hand and asked how I am, who I am, where I'm from. For a 20-year-old like myself (those little things) meant the world coming from a senior player.
"For players like him, it probably only takes a few seconds, but says a lot about the club and environment."
Fresh after his four-goal haul from 12 disposals at the weekend, in what was just his second game at VFL level, Smith said it was an "unreal feeling" post-match.
His proud mum was the first to ring him, while his grandparents sat in the stands also beaming with pride.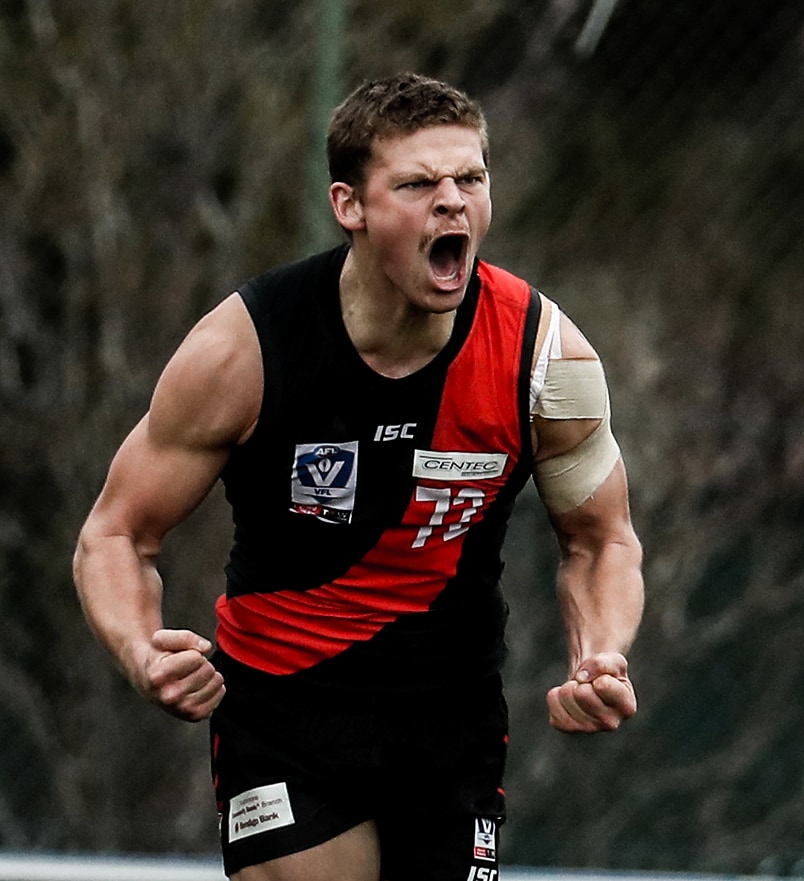 Smith celebrates one of his four goals against Sandringham. (Photo: AFL Photos)
And while there was a great energy in the Essendon rooms, the excitement even extended to his local club Greensborough.
"One of the best parts for me was actually after the game, we were in the meeting room and DJ had his spiel but it was more or less all of the boys getting around me, laughing and carrying on," Smith said.
"I was at Greensborough the next day and everyone there was the same. They all know how hard I've worked and how I've pushed myself to even be in a VFL program, so it was just awesome seeing them be proud and excited.
"They have been awesome in wanting to give me the best opportunity, and help me be my best.
"It's all well and good to do something impressive, but to have other blokes enjoy your success and celebrate with you, it means a lot to me."
Smith's footy journey began as a child playing Auskick at school, before making an under-12s Victorian team while playing with Greensborough in the EDFL.
Growing up a Geelong supporter, he looked up to forwards like Stevie Johnson and Cam Mooney, who seemed to be having fun.
Smith then found himself at Wesley College on a footy scholarship, before spending time with the Northern Knights and then eventually on Essendon VFL's list.
"I always had a lot of energy and was pretty full on as a kid, so footy was a good outlet for me," Smith said of his junior footy days.
"Once I made it into that under-12s state team though, it all started becoming quite real for me."
Even when injuries wreaked havoc and it looked like it wasn't meant to be, he persevered with his goal.
"I wanted more than anything to make my regional TAC Cup team, and I put it all in one effort and was running back with the flight of the ball.
"I ended up knocking myself out pretty bad. That changed me and really made me want to switch on with my footy.
"Returning from that, I played a couple of games of TAC Cup and then fractured my thumb, and coming back from that then buggered my foot at Greensborough.
"It seemed it wasn't meant to be, but it didn't really break me in terms of a dream. I wanted to (continue playing footy), but I was never going to break myself down if I didn't."
Enjoying footy has always been the priority for Smith, who as a second-year electrician, is used to finding the positives in life.
"On Monday I found myself under a floor crawling around in mud, which isn't amazing for anyone but I guess you could always be in a worse situation. Most of the time I find myself like a big kid so even though I'm under a floor and it's gross, you sort of embrace your environment and get it done.
"Like any bloke going through their teenage years you put a lot of stress on yourself with footy, but for me it's always been important for me to enjoy it, and
"I think the Greensborough pathway to getting to Essendon has been unreal for me, and who I've become.
"Curiosity is a big motivator for me. You sort of really get only one go at most things so you may as well do it and do your best."