My first memory of David Zaharakis dates back to grade 6, 2002.
Lacing up the boots for St John's Primary School in Heidelberg, we'd just topped our region's competition and were pitted against Our Lady Help of Christians Primary School, another top-performing school based in Eltham.
Lining up in the ruck in opposite colours that day was a young 'Zacka'. You couldn't miss him – he dominated and, believe it or not, actually played in the ruck.
Little did I know at the time that our paths would align again a couple of years later.
We played together in an under-15s development squad with the Northern Knights, with Zacka living in Eltham, about 10km north-west of my home in Rosanna.
Another four years together at the Knights followed, as a friendship started to blossom.
Zacka would go on to captain the side, while we'd share the captaincy for Vic Metro in our final year of junior footy.
Then in November 2008, we were lucky enough to join Essendon, just 18 selections apart.
I loved how much it meant to Zacka to be drafted to the club he barracked for as a kid, and here we stand 11 years later, on the eve of our No.11's 200th game for the mighty Bombers.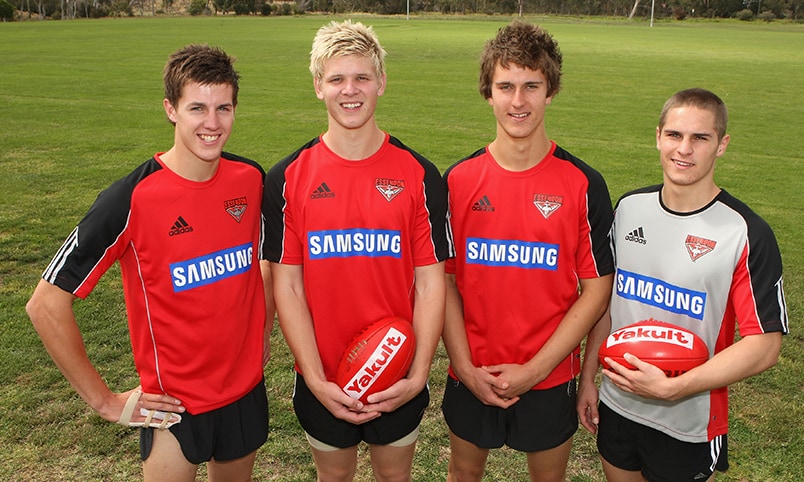 The draft class of 2008, featuring Hurley and Zaharakis. (Photo: AFL Media)
Driving home from the club on Monday, the nostalgia hit me as I reflected on my great mate's journey to 200 games. 
I instantly remembered those car trips as fresh-faced teenagers new to the AFL scene, when Zacka would pick me up from home and drive me to training at the La Trobe University sports fields, as I didn't have my licence. 
We'd spend a lot of time together in those early days, getting to know each other's families. I could see how tight he was with his sisters, who would later make him one very proud uncle, and his unwavering loyalty to his family was something I admired.
His protective nature saw him develop a passion for helping animals, and it was through Zacka and his family that I was inspired to start a dog gang of my own.
Though we've always had different personalities, I think that's what's made us click.
While I take a relaxed approach to things, Zacka is meticulous, still taking 25 minutes to strap one foot before training.
There's a purpose and preciseness to everything he does, and he'll never do something just for the sake of it. He runs his own show, and if he wants to climb a mountain in Alaska, he'll just go and do it. He's his own man and that's what you love about him.
While Zacka hasn't seemed to age a day since being drafted (I'm putting that down to the L'Oreal face moisturisers), something that has matured significantly is his leadership.
He's a man who invests so much time and effort into his younger teammates, particularly midfielders, and you only need to look at his Colorado off-season training camps as an example. 
The club ran the camps for a few years, but when they ended, Zacka took it into his own hands to keep them going. 
The fact he's had a loyal group of teammates follow him to Colorado over the years just shows the regard he's held in, and he's been so selfless in the way he's led those camps and taken everyone under his wing. 
On a personal level, I need to thank Zacka for helping me to become a better leader. 
There have been some challenging times over the years for the both of us, but he's always been there to help me through them.
We have a relationship now where we don't need to talk every day or hang out a lot. There's a mutual respect. He's a reliable person with a clear understanding on things. I know I can always lean on him for advice, and it works both ways.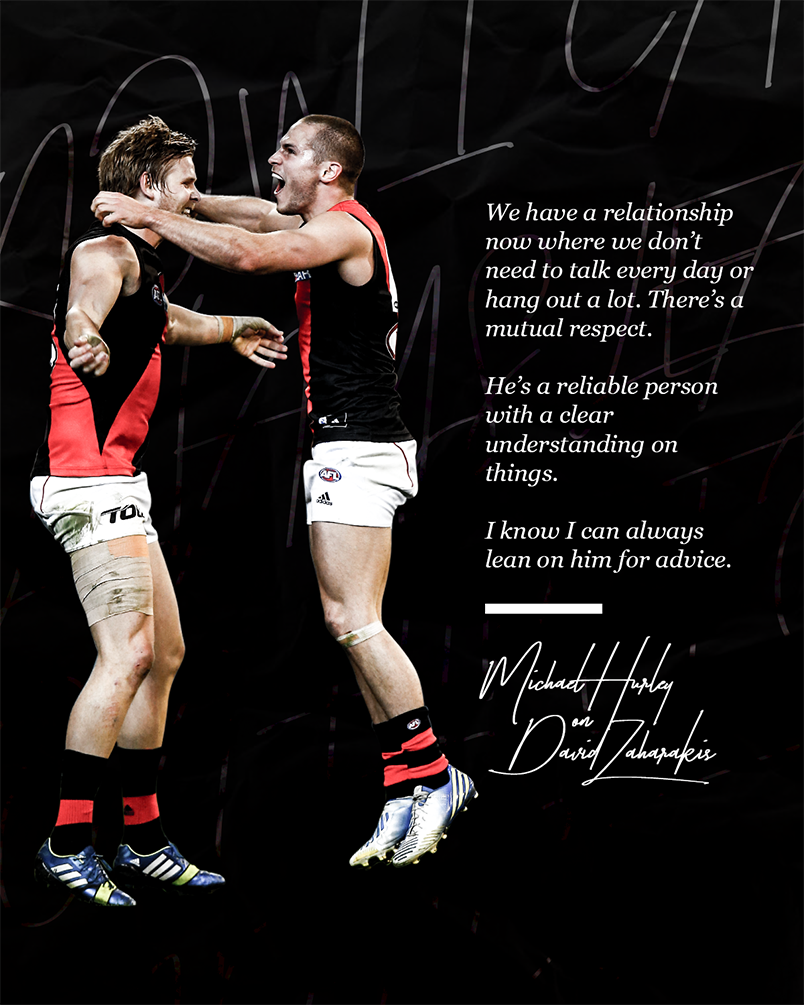 I remember last year we had our ups and downs and helped each other to hit good form again. That comes from years of time together and knowing how each other ticks. 
As for on-field memories, Zacka's winning goal in the 2009 Anzac Day clash will forever be etched in footy folklore, but I think it would be unfair to define him on that alone. 
After starting as a half-forward with some nice skills, he's developed into an integral part of our midfield, who has consistently performed at a high level to now become our first current player to reach 200 games.
He is an Anzac Day specialist, however, and my favourite Zacka moment has to be his four-goal heroics to land the 2013 Anzac Medal.
As Zacka and I enter the twilight years of our careers, it's a time where we ponder how we want to be remembered as the end nears.
Don't get me wrong, I'm sure there's still a fair bit left in the tank for both of us, but I'm sure he will have left a wonderful legacy here when that day eventually comes. 
Congratulations on 200 games, Zacka. I'm honoured to share another achievement with you on Thursday night.