We were all preparing for Anzac Day when Kevin Sheedy came into the meeting room at Windy Hill with boxes full of books. He gave each player and Coach a copy of a book called, 'Fallen: The Ultimate Heroes'. It was written by Jim Main and David Allen and was about footballers who never returned from war.
The foreward was written by Ronald Dale Barassi. He writes about 115 VFL footballers who between the age of 18 and 25 went off to war and never returned. Barassi said; 'when I visited my father's grave at the Tobruk War Cemetery in 1984, I mourned for a parent I hardly knew and thought of the waste of war. So many sacrifices….'
It meant a lot to Kevin Sheedy. It meant a lot to former player Jack Jones who at 91 still conducts tours at the Club and is a living icon with such a moving story. Anzac Day is Jack Jones' day. Jones served with the 24th Infantry Battalion in New Guinea and Bougainville, before returning home. His mates are buried on the side of hills in the dense New Guinea jungle. He spent 22 months in Papua New Guinea and Bougainville, then had to wait another four months for a boat home after the war had finished. Of his company, 91 were killed and 197 wounded.
On his return, Jones was asked to train with the 'Same Olds', becoming a regular player for the Dons. He had a ringside seat to the John Coleman, Dick Reynolds and Bill Hutchison show. What a story to tell. Returned from war when so many didn't and played during the Club's greatest era.
Jones was a reserve in the 1946 premiership team and starred on the half-forward flank in the 1949 premiership team. He was also in that spot in the 1950 premiership win. Jack played in 18 finals games and seven Grand Finals. A beautiful life.
Kevin Sheedy wanted a game. Not just a game, but a special event to pay suitable tribute to those who have served their country. So where did this dream come from? In Sheeds' garden of course. As he pottered around weeding, planting and watering - his vision turned to an Anzac tribute. He thought back to an Essendon Carlton game at VFL Park in 1975 when 77,000 attended. But Kevin wanted to fill the MCG with a moving 100,000 people tribute. But he needed Collingwood (for the first time ever).
Kevin organised a meeting with officials from Essendon and Collingwood, and the then Victorian Returned and Services League (RSL) President Bruce Ruxton, a Collingwood man. Sheeds put forward his concept for the match day and game that would honour the Anzac spirit. Kevin fell 5000 short when 'only' 94,825 came to the game. Fittingly it was a draw, probably decreed by a higher divine authority (not you Eddie!) as there can be no winners in war. Just lost sons and daughters.
To put the game in perspective from the inside, it is a really big deal. I have been fortunate to park my car and walk into the MCG in September for finals. The Anzac Day game feels the same. The atmosphere is equal to any final, not just because the two tribal competitors happen to be Essendon and Collingwood but because of its meaning and heightened responsibility felt by players and coaches to show respect. The supporters of both clubs are enormous in their respect. In many ways you rate the privilege and responsibility above the four points. You just don't want to let anyone down.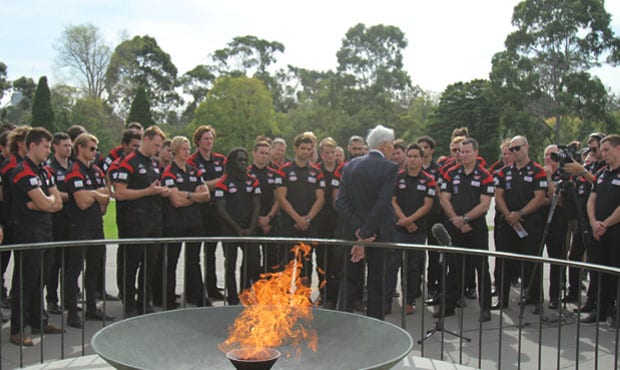 Jack Jones spoke to the Essendon players earlier this week.
My Grandfather went to the Middle East and North Africa in World War I and my Dad was involved in mopping up operations on the island of Morotai in World War II. I have their service records, medical records, discharge papers and their war medals. It means a lot to my generation and the conduct of all players, supporters and the AFL on this day is so special. Of course we shall remember them.
I was lucky. In my stint as assistant coach from 1999-2005 I experienced Anzac Day from within the club. I was also lucky to witness Essendon win six out of seven in a dominant period. James Hird was at his best winning three Anzac Day medals in that time. Sheeds also had a sense of theatre, debuting Dean Solomon and Scott Lucas in these big Anzac Day games. Reasonably good selections.
Many Essendon players shared milestone games on this significant occasion. Darren Bewick – 200th game (1999), Joe Misiti – 200th game (2003), Andrew Welsh – 150th game (2010) and Adam McPhee – 150th game (2009) all had memorable games.
Kevin Sheedy went up a level in Anzac week. He got as serious and as emotional as I have ever seen him. I'm going to say it means as much as a Grand Final to him. From my observations of Kevin leading up to the game, yep, I'm sticking with that.
Jack Jones, Essendon hero, Australian hero, Anzac man, emerged from the living nightmare of the New Guinea jungle. As he says, 'I appreciate every minute".
Not half as much as we appreciate you mate.
Go Dons. Go Pies. And Go the bloody Anzacs.