Essendon VFLW coach Brendan Major has hailed his side's growth in 2019.
In just their second year in the competition, the Bombers climbed four spots from last year to finish in ninth place, with a strong finish setting up an exciting 2020.
"At the start of the year we were essentially building a new team," Major said.   
"But I think the girls developed really well as a group. I was really happy with their progression and growth over the season."         
The Bombers were up against it early, with a number of narrow results going against them in a 2-5 start to the season.
But they turned it around in the second half of the campaign to record four wins from their final seven matches, falling just short of the top-eight.                 
"Every year you're hoping to improve your systems and improve your structures on the field," Major said.   
"We had a huge focus on skills fundamentals in the pre-season and I think that our ball movement took a little bit to get going in the season.    
"We moved the team around a little bit, and I think we got our balance right halfway through the year."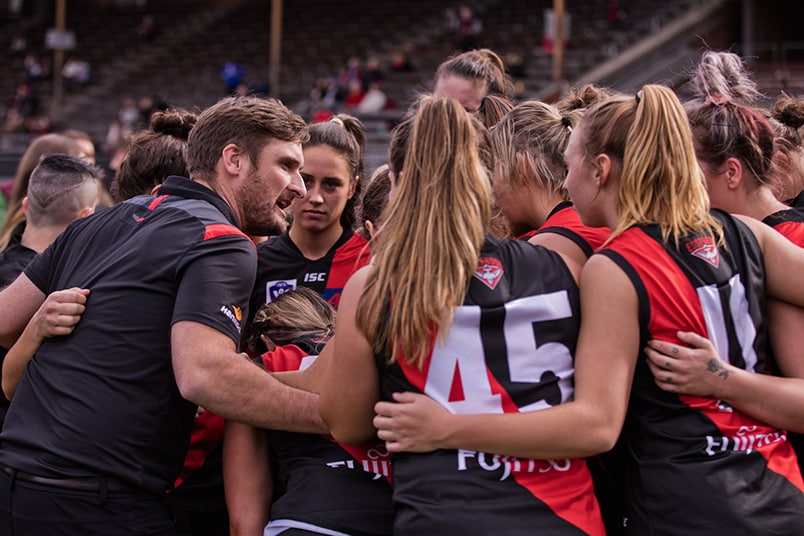 The VFLW Bombers stormed home in the latter stages of the season. (Photo: Ben Johnstone)
After winning just one game in their inaugural VFL season in 2018, the Bombers saluted six times this season – a due reward for their hard work.         
They produced some of the more inspiring triumphs of 2019, including their dismantling of a finals-bound Melbourne Uni and stunning upset win over a first-placed Collingwood in round 15.         
"Wins and losses are always a difficult thing to measure your team's success because in this case, the competition was really even this year," Major said.         
"Although I think the level of play and the level of team footy that we created this year was a vast improvement from the year before.   
"I think we got the players in their right positions and that showed when we came up against a top opposition."   
What made the Bombers' fightback all the more commendable was their ability to conquer challenges on the injury front.   
Captain Courtney Ugle was struck down with a broken leg in round seven, while joint vice-captain Hayley Bullas (partial ACL tear) was ruled out of the remainder of the season a week before.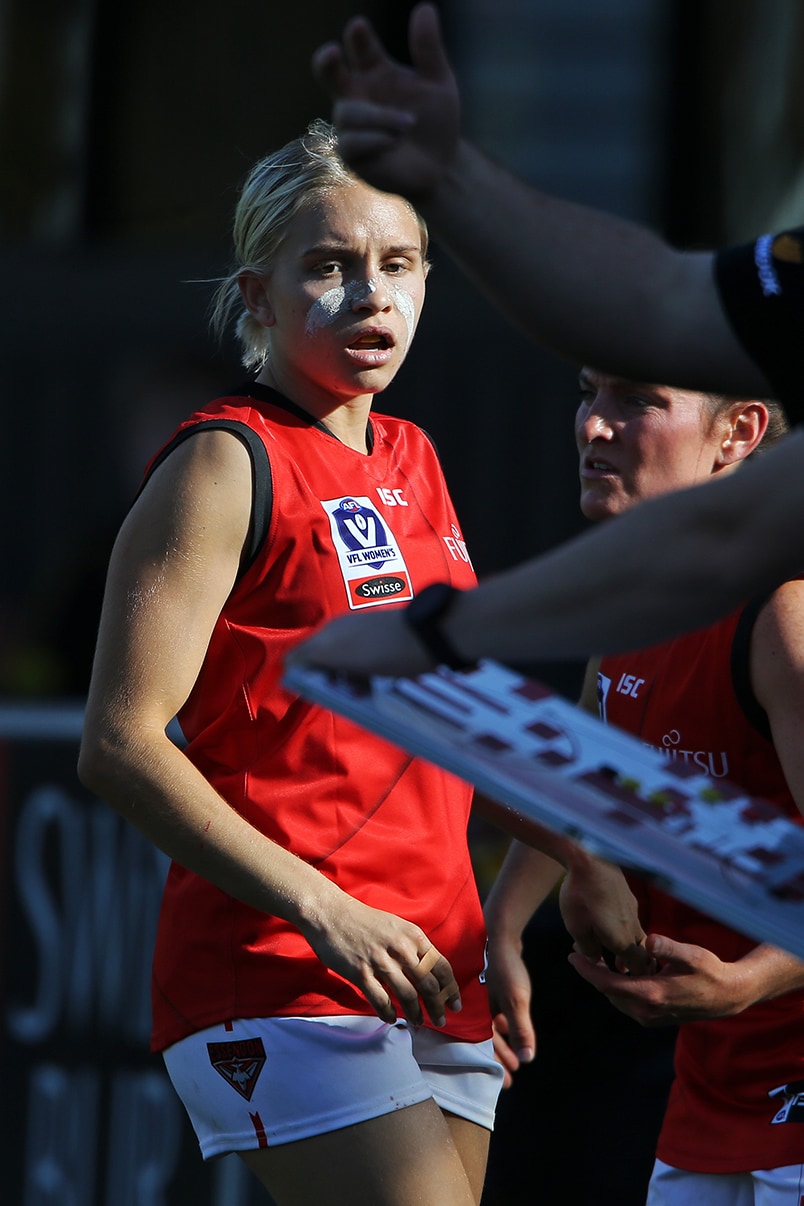 Courtney Ugle was an unfortunate casualty in her first season as captain. (Photo: AFL Photos)     
Simone Nalder and Kendra Heil stood up in the absence of their chief midfielders, continuing to build their game as the Bombers made a late surge for finals.
"Injuries do occur, it is a contact sport, but that's not to say it didn't have a huge impact on the side," Major said.           
"But to the group's credit and those individuals' credit, they continued to lead well from the sidelines.   
"The leadership that we had early in the year with Courtney continued later in the year with Simone, and the group responded really well."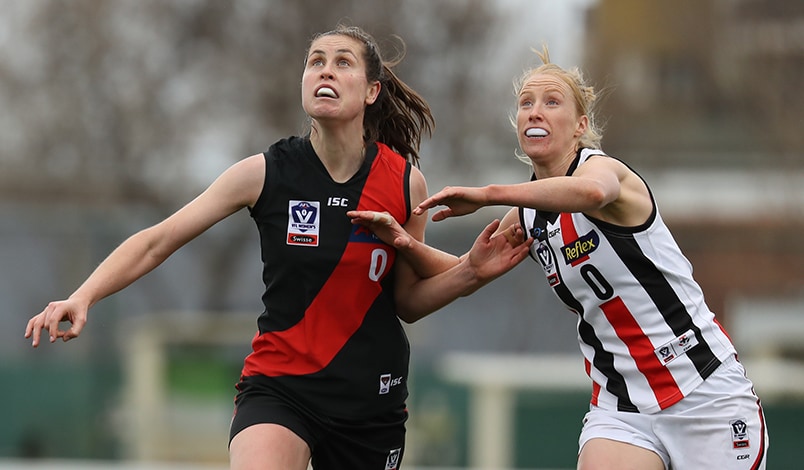 Joint vice-captain Simone Nalder led by example in the absence of Courtney Ugle and Hayley Bullas. (Photo: AFL Photos) 
The VFLW Dons also achieved something they hadn't done before in their short history, recording back-to-back wins when they travelled to Downer Oval in round 12.        
They led from the outset to prevail over Darebin, before cruising to a 39-point win over Williamstown the week after.
To cap things off, Essendon triumphed by 77 points in front of a passionate home crowd at Windy Hill to sign off 2019 in style.       
"I was really happy with the team's progress. We took it up to sides on opposite ends of the spectrum," Major said.  
"We played really well in that last game and proved that we can play those four quarters of footy."   
Many players stood out to Major during the season, including Alex Quigley and Kirby Hicks, who were prolific all year.            
Shae Audley, Georgia Nanscawen and Lauren Ahrens were also outstanding in their debut seasons in the red and black, while Georgia Patrikios, Alana Barba and Felicity Theodore emerged as the league's most promising young key midfielders and a key part of Essendon's future.           
Speaking on the developing young list, Major was confident growth in the existing players would allow them to take the next step to compete at the highest level.     
"At this point, I'm all about individual development because I'd like to see more players get drafted," he said.
"I think with the new expansion clubs coming in, there's a really good chance a lot of players could get drafted into the AFLW.  
"In terms of team development, it would be nice to be competitive in games for longer periods of time and play our best footy."    
With this year's home-and-away season in the books, the Bombers will now turn their focus to 2020.              
Major said he was looking forward to improving the Dons' game-plan during the pre-season.        
"It's about fine-tuning our structures and continuing to push the boundaries, physically, of what our group can do," he said.    
"I think we were a little bit off with fitness and skills again, so it's just about continuing to develop those and continuing to galvanise as a group."
Victoria Raptis is in the final year of her Bachelor of Communications (Journalism) degree at RMIT University. As part of their strategic partnership, Essendon Football Club and RMIT University are committed to providing opportunities for students, staff, players and the wider community.